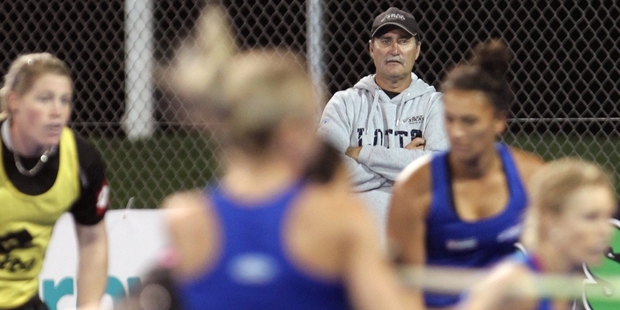 Friendship is the theme today after Argentinian envoy to New Zealand Fernando Escalona donated the Amistad (Spanish for Friendship) Cup yesterday at a luncheon in Napier.
But anyone who has played any level of sport in any code will attest to the fact that for 70 minutes that benevolence will give way to orchestrated malevolence when favourites Argentina face the Black Sticks women from 7pm in the inaugural Six Nations tournament in Hastings.
But someone forgot to tell the Mark Hager-coached New Zealanders at the Unison Hockey Turf last night where it was a rest day with one more sleep to go before the defining moment of their campaign in a tourney that is part of the Hawke's Bay New Zealand Festival of Hockey.
Two tribes, brandishing sticks, were going to war on the freshly laid Hawke's Bay Regional Sports Park turf that had already won its battle against the inclement weather - no signs of any pools of water so the drainage is effective.
Through a film of persistent drizzle and floodlights, a poker-faced Hager blended into the backdrop in his grey sweatshirt at the Napier City end of the turf to conduct scrimmages.
In hockey parlance, the green-and-yellow bibs mob were up against the black-and-blue ones, simulating - over and over again - moves to counter "four-way presses" that China had employed with aplomb in inflicting a 2-1 defeat on the Kayla Whitelock (nee Sharland)-captained hosts on Sunday.
It had rankled with the Australian coach that his Kiwi troops looked bereft of ideas when the No7 world-ranked tourists dictated the pace of the game to claw their way back from a 1-0 deficit to register the six-team tourney's first upset.
His No5-ranked women looked spent on Sunday, their basic skills deserting them and their failure to convert opportunities in the D into thudding, high-fiving goals reportedly sitting as comfortably with him as an errant pebble in a boot.
In his words, "it was a big let down".
Enough said.
It was different story last night as he sporadically blew the whistle to drill into his squad the significance of monotonous regularity in set-piece passages to the nth degree.
A former Australian men's international player, who won bronze in the 1996 Atlanta Olympics, one can only assume his proteges must be mindful anything shy of sublimity will be less than acceptable.
"No, let's do that again," barked the man who turns 50 on April 28, about a month before the World Cup is staged in The Netherlands.
"That's good," Hager endorsed not long after defender Whitelock and forward Gemma Flynn hooked sticks.
Anything less than that here, albeit a dress rehearsal for the World Cup, will be poor preparation against the world No2 South Americans who have made short work of No4 Australia (3-0) and No8 South Korea (5-1) to date.
"If we play like that against Argentina it's going to be a cricket score," Hager had venomously spat post-match after the China encounter.
"Any opportunities they get, they're scoring from and if we allow them five or six or eight opportunities they're going to punish us and we've got to be much, much better."
Indeed, as the Luciana Aymer-captained Las Leonas (The Lionesses) have made their intentions clear come the World Cup, from May 31 to June 15 at the Hague, they want to nudge top seeds The Netherlands off their perch.
It seems all the tinkering now will eventually pay dividends.
It isn't far-fetched to assume the Dutch and world No3 England may have people here on spying missions to gauge the talent on display, especially any unknown quantities coaches may have injected to redefine their matrices.
Even though it was rest day Australia weren't talking after pipping world No9 Japan 1-0 on Sunday.
In fact, no teams were available between trainings and "meetings" that one can assume involve lengthy white-board sessions in dissecting oppositions' game plans.
The ball must pass 10 other players on each side before the goalkeepers employ their foam-padded accessories and sticks to ensure it doesn't slip into their wired enclosure.
Consequently if she fails to deny the forwards a goal the field players can hardly point a finger at the gatekeeper.
In Hager's eyes, though, that doesn't necessarily mean Bianca Russell and Sally Rutherford were going to sit it out last night.
A male member of the coaching stable, armed with what resembled a lacrosse-like stick, slung shots at the pair on the other end of the turf.
Judging by the slinging action and an outward swing, it was the drill to help them counter Wang Mengyu's lethal drag flicks on Sunday.
The Chinese striker could have done more damage had it not been for Russell's agility and reflexes.
A defiant Black Stick midfielder, Anita Punt, was adamant a loss didn't necessarily mean the end of their Six Nations title hopes but a loss tonight will certainly mean Argentina will celebrate prematurely although giantkillers China can do the unthinkable on Thursday to secure the second spot for the last throw of the dice.
Technically Punt's on the money as the finals are on Sunday with the top-two sides through pool play having another opportunity to determine who will be the inaugural champions of a tourney that may evolve into an eight-nation one where anybody who's anyone will ideally scrap for the top six berths in the world to qualify in future.
It seems personal numerical milestones of appearances will be pushed to the backburner, publicly at least, as New Zealand will face another hurdle of inflicting more pain on their transtasman cousins who will be smarting after an unconvincing display against Argentina.
New Zealand play Japan on Thursday and Australia on Saturday.