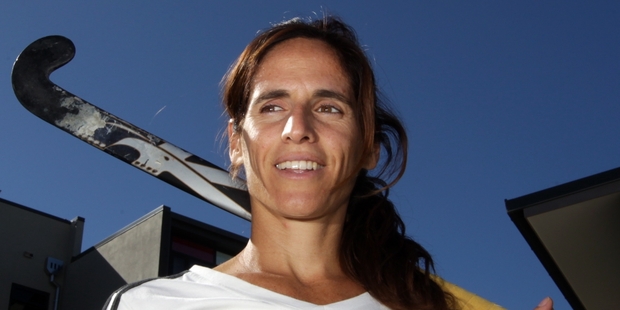 It is what it is, if you ask Argentina hockey international Mariana Rossi.
Sitting in the lobby of a Napier hotel in Ahuriri, the 35-year-old smiles when asked how long she has been in the senior women's national squad.
"Four years and this is my last season," Rossi reveals before the South Americans begin their campaign against Australia in the inaugural Hawke's Bay New Zealand Festival of Hockey in Hastings from tomorrow.
They play at 2pm, after the Japan v China match at midday and before the New Zealanders cross sticks with Korea from 4pm in the Six-Nation tournament at the newly-built, world-class, tier-one Unison Hockey Turf at the Hawke's Bay Regional Sports Park.
Rossi's late inclusion into the national squad came more than a decade after she represented her country as an under-21 player.
It doesn't bother the defender from Buenos Aires that she found herself in the doldrums of elite international competition.
"I don't know. Things happen in life. I'm just happy I play for Argentina."
What actually happened to the affable Rossi was that two years ago she discovered the joys of motherhood.
She and husband Rodolfo have a 2-year-old son, Santiago.
"I miss them a lot," she says, acknowledging a crop of young Argentinian players waiting patiently for her to conclude her interview before their rendezvous of the quaint suburb after training.
"I want to have another baby."
The St Catherine's Hockey Club member is quick to acknowledge she is no Luciana Aymar, her 36-year-old captain who is the only player in the history of the sport to receive the International Hockey Federation (FIH) Player of the Year Award a staggering eight times.
Considered the best female hockey player of all time, the midfielder, who has graced the front cover of many glossy magazines in a modelling career that is lucrative in its own right, has deft stick skills that have prompted fans to draw parallels with Argentine soccer idol Diego Maradona and nicknames such as "La Maga" (The Magician), "El Diego" and "La Maradona del hockey".
"Not all of us are stars but she [Aymar] is and it's a very popular sport," says Rossi who is one of five children of Blanca and Jorge Rossi.
Her father was a handball coach and mother a player before they forged careers as PE teachers.
Rossi has followed in their steps and also coaches hockey at her club.
While she and her siblings watched their parents engage in handball Rossi gravitated to hockey at the age of 12 because her elder sister played it.
"If she goes, I'm behind her and I go, too," she says although she enjoyed volleyball, too.
It helped that a group of friends was into hockey.
The underlying benefit for Rossi was having parents who championed a "healthy life" in a soccer-mad nation where hockey is the No 1 female sport.
Just as her parents didn't impose handball on her or her siblings, Rossi has no intentions of putting her children under pressure to play a sport she is sold on.
"Maybe they play hockey but I want them to choose what they like to play."
So what makes Argentina a world force?
"I can't tell you. It's a secret," she says with a grin before attributing it to passion and talent scouts' ability to select hybrid types from the increasing pool of young female players.
Astute and oozing with confidence, Rossi says Argentina try to find a balance in attack and defence.
The 2008 Beijing Olympics bronze medallist says Argentina are World No 2 but watch that space when the World Cup starts in The Hague, The Netherlands, late next month.
All the Six Nations teams see the Bay tourney as an ideal stepping stone to the World Cup but Hockey New Zealand hopes to entice two more teams next year in a bid to turn it into a marquee event.
Rossi, who went on to claim a gold medal at the World Cup in Rosario, Argentina, in 2010, believes luring World No 1 The Netherlands and No 3 Germany will immensely boost the profile of the Six Nations here.
A versatile defender who can sweep across in any of the positions in front of the goalkeeper, she says the Bay is a beautiful part of New Zealand and one they are enjoying.
The temperature now in the Bay is similar to what it is at their home.
Rossi doesn't think professionalism in hockey will necessarily equate to success for the code or players.
"Today people like me play it [but] not for money," she says, emphasising dedication and attitude to training are equally imperative.
"It is more important to represent our country - wear the light blue and white stripes," she says.