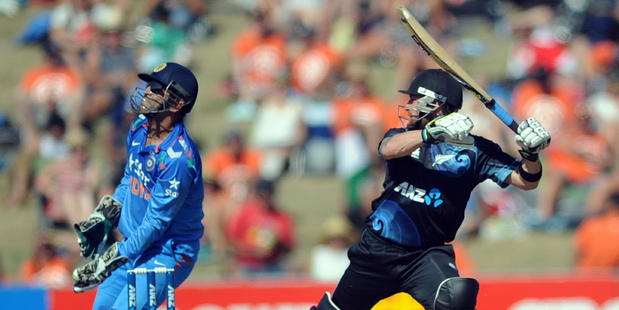 Forget all the scaremongering with what the proposed India, England and Australia pact may do to cricket.
What on Earth is happening with international cricket in building a rapport with what matters most - people?
Touring teams seem to be engaging less and less with regions hosting internationals these days.
Last week, the attitude of the India cricket team in Napier was appalling.
Hiding behind team protocol, liaison officer Dr RN Baba emailed to all the parties concerned, stating there would be "no media interaction".
It is absurd the 26-member tour party - 16 players and 12 support staff - are not allowed to speak to the scribes until 60 days after a match.
That might as well be never in a busy summer of cricket, judging by the hectic international schedules nowadays.
It's criminal to arrive at a centre six days before an ODI, but decline to offer a player, or even the "chai wallah" (tea maker), for an interview and photograph for the benefit of spectators.
It's a given the MS Dhoni-captained outfit are ODI world champions going into next year's World Cup in New Zealand and Australia.
What the heck, we'll even tolerate a swagger when they strut on and off the field.
Even those who laboriously erected the training nets at Nelson Park, Napier, may have turned a blind eye to lanky seamer Ishant Sharma dangling off a crossbar like a monkey in a jungle gym, threatening to collapse their slick structure.
I suppose one can grant that sort of licence to the "rock stars" of cricket although many teams may consider that as poor ambassadorial behaviour.
Where the picture starts becoming pixelated is when the tourists start to play coy.
It's not like there was a threat of some interviewer posing a question akin to what prompted Canadian tennis professional Eugenie Bouchard at the Australian Open to reveal she'd date some egg-tossing prat called Justin Bieber, if she could pick anyone in the world.
The chance of scribes here, in tabloid fashion, grilling adroit batsman Virat Kholi on whether he is dating some Bollywood starlet is almost zilch.
No, it would be more likely to be what makes him tick as a batsman and if he is feeling the pressure of relaying the baton of a nation's burden in the footsteps of the great Sachin Tendulkar.
As the world's most powerful cricketing nation, India must get off their high horse to ensure that generating countless rupees isn't cricket utopia.
No offence to Dhoni but sticking microphones and interview machines under his nose, as he drones on like an Infomercial presenter, at every orchestrated media scrum hardly does justice to the sport.
In a dog-eat-dog world, India, England and Australia are familiar with a Lord of the Flies culture that demands they aspire to become bully boys for fear of finding themselves at the bottom of the pyramid.
That's because they've all taken a turn at kicking each other in the guts when they were down.
That the trio are desperate to broker a deal to ensure test cricket survives is a noble gesture.
However, the power brokers also must not forget the lifeblood of the code depends on the support of its fans base.
No doubt the cricketing subcontinent controls a lion's share of the viewership with TV monopolies and the sheer size of their collective population.
Nevertheless, something as simple as public relations from a player, official or chai wallah can sometimes be more potent in pulling crowds to a venue than a country's ranking or a smorgasbord of expensive advertisements.
While it's uplifting to find drum-beating Indian and trumpet-toting Barmy Army fans invading venues to heighten the electric atmosphere, it must be a concern to see how numbers attending Black Caps' matches here is dwindling.
One could have been excused for thinking they were watching a game at a half-empty Jawaharlal Nehru Stadium in Pune during last Sunday's thrilling ODI in Napier.
Where were the Black Caps supporters?
Among the throngs of India fans were some, conspicuous in their silence until they sensed possible victory in the dying overs.
Apathy in losing to a superior team may have been a factor for a poor turnout of 7576 on a spectacular summer's day in God's own.
Even the Wellington Phoenix against Newcastle Jets soccer match at McLean Park in October enticed 10,000 fans.
The other factors against cricket may have been playing on a Sunday, couples having to fork out about $100 for tickets (never mind the kids) after the Christmas holiday expenditure and you could go on.
That a local brewery overshadowed McLean Park with a promise of a $100,000 gamble is further evidence to purists that money moguls are fast adulterating the 50-over game into another mongrel version of the farcical Twenty20.
I suspect the lack of spotlight on key players such as Kohli, Shikhar Dhawan, Suresh Raina and Mohammed Shami, to name a few, has the propensity to restrict bums on seat.
People will always be the common denominator in any sport fixture.
Embrace it or end up like domestic cricket playing in empty stadiums. How hard can it be for players on payrolls to spare 10 minutes for a chat and pose for a photo?
Unless fans can relate to the protagonists, the exercise of selling any sport becomes futile.
Cricket is in danger of mutating to a two, three or four-horse race like rugby league and netball if it isn't careful.
Monotonous prime-time news question-and-answer rituals will not cut it, either.
Neither will Kohli's dexterity or the probability of a repeat of Corey Anderson's world record 36-ball blitzkrieg.
Until then, it's safe to assume most fans feel they're better off watching someone wax Mark Richardson's hairy chicken legs on the Crowd Goes Wild.