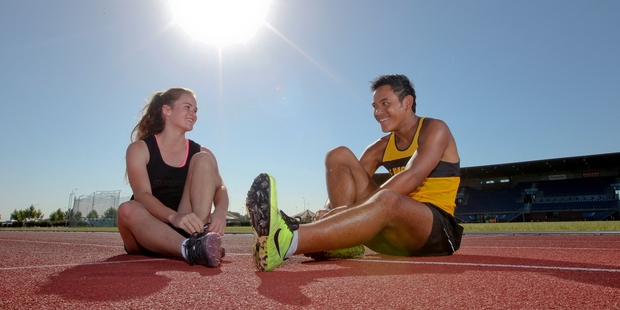 HE DOESN'T know their names and, frankly speaking, even if he did it wouldn't mean much to Logan Carroll-Teao.
All that matters to the Napier sprinter is that he'll be in the starting blocks with some of the country's fastest Open male sprinters at the annual Sylvia Potts Classic in Hastings which starts at 5pm and finishes with the feature 800m women's race at 7.20pm today.
"It's time to see how fast I am against the best," says Carroll-Teao before the glamour 100m and 200m sprint events at the Hawke's Bay Regional Sports Park track-and-field arena.
That sort of pre-race talk can easily be perceived as egotistical behaviour inherent among fast-twitch fibre types except in this case it isn't.
You see Carroll-Teao is only 14 years old, finding his mark alongside predominantly sprint-savvy men.
"I don't know anybody. All I know is they are New Zealand's fastest but I don't know their names," he says innocuously of a line-up that includes national sprint champion Joseph Millar and 2011 world youth championship silver medallist Joshua Hawkins.
The Tamatea High School Year 11 student will be delighted if he lunges across the finish line ahead of one or two competitors.
"I'm happy to face people who are faster and stronger than me."
Even if he comes last, he can take that in his stride. He knows time's on his side.
"It's my first experience [at the classic] so it's a good chance to learn how to become New Zealand's fastest someday."
The Hastings Athletics Club member has only one national secondary schools' meeting to his credit.
He finished 14th overall in Hamilton last year as a junior runner but has been to numerous regional meetings.
Carroll-Teao has a personal best time of 1.2 seconds but is hovering at the 12.4 at training in 100m. In the 200m distance, he is clocking 25.1sec at training but holds a PB of 23.41sec.
Perhaps the most important attribute the teenager packs is his wit.
Asked which side of his family he inherited the speed genes from and the youngest child of a Maori mother, Marie Puhipuhi Bronwyn, and Rarotongan father, Vaine Junior Teao, replies: "None, they are all too slow."
He reflects for a split second then reloads.
"I probably get it from mum's side because when I used to ask her she used to say my nan [maternal grandmother from Christchurch].
"Mum said she used to run away from nan all the time."
Logan Carroll-Teao isn't averse to hard work, training every day, except Fridays when he rests.
The youngster who is in awe of world champion Usain Bolt's technique, does gym sessions to strengthen his quads and calf muscles in a bid to acquire a smoother transition from the starting blocks.
His parents cook healthy food and he is working on the art of toning his muscles, as opposed to building.
"I'm eating proteins and trying to cut down on takeaways but I get carried away with my brothers sometimes," says the youngest of four siblings, including twin brothers and a sister.
"I'm the youngest but I don't look it because I'm taller than everyone."
He is aware of the effects of junk food but comfortable in the knowledge he'll be fine if he keeps it in moderation and doesn't lead a sedentary life of watching TV and playing video games.
"Mick says I've lost about 2kg in training so I've lost heaps of fat around my waist," says Carroll-Teao who has ambitions to compete in the Olympic Games.
He also plays rugby, rugby league, soccer, netball and volleyball.
"Training gets me out of the house," he says before darting off to swim at the wharf.
"I swim anywhere I can because that's what most Maori boys do," he says before revealing it's good practice considering someone from Westshore Surf Lifesaving Club had approached him to join them.
Fellow Hastings athletics club member Josie Minor is also of the same ilk but will be racing in the 400m event on Saturday.
The 15-year-old from Napier Girls' High School switched from the sprint distances to 400m but found it harder.
"I didn't want to do it but now I'm much better with some training and fitness."
Her PB is 26.7sec. The Year 11 student started running at the age of 8 with little success but Cull spotted her and she has registered incremental improvements.
"I wasn't that fast and used to finish in the back so I started training with Mick at the start of Year 9."
Her mother, Pam Minor, was a high jumper and sprinter.
With father Jude Minor playing rugby, Josie and her four other siblings had no choice but to embrace sport.
It is effectively Minor's first Sylvia Potts although she did take part in a "fun" 2x100m relay with fellow NGHS pupil Shannon Gearey last year.
"It was good fun and I liked it but we can't do it this year because it's too close to Shannon's race so that's really sad," she says, recalling she was one of the youngest competitors at the classic.
Gearey has helped her immensely.
Minor has competed in two secondary schools' nationals. Last year, she was the eighth fastest 400m runner but the previous year her 200m experience wasn't so good.
At times she has questioned her resolve, especially after a gruelling training session.
"Sometimes I don't want to do it but everyone in my squad is so nice."
Cull says Minor has lifted her aerobic capacity and fitness twice over with 400m.
"She's more suited to sprints but doesn't have enough basic speed but she'll become better when stronger and fitter."
Carroll-Teao, he feels, is an effervescent boy who is new to athletics but possesses immense raw power.
"He's good at 100m to 400m but he still has to show at 400m yet.
"He's still growing a lot at only 14. He's a bright kid and a role model to Tamatea High which has struggled as a school to produce athletes for the past 20 years."
Classic organiser Richard Potts says the Sylvia Potts Trust works in tandem with the Hastings club to stage the meeting with a $1000 every year going to the Hawke's Bay Cancer Society through gold-coin gate takings.
"This is just a small way the trust can support the cancer society with all the good hard work they do in Hawke's Bay," says the son of Sylvia and Allan Potts.
Allan Potts, of Hastings, is now battling bone cancer after overcoming prostate cancer four years ago.
The 79-year-old former coach of Sylvia and a national representative runner is the chairman of the trust with Richard, his younger brother, Nicholas Potts, Neville Smith and a close friend of Sylvia's, Andrea William, help him run it.
For the first time, Allan Potts will not be involved with the meeting as an administrator, official or coach. He is hoping to be a spectator in the pavilion although a fall can hinder recovery because the bone will not heal.