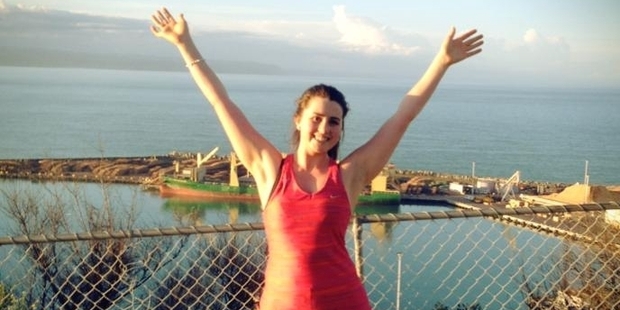 Back in August Hawke's Bay's Sophie Barr read a book called One Step Beyond.
It was written by Aucklander Mal Law who ran seven of New Zealand's great walks in seven days to raise money for the Leukaemia and Blood Foundation. Law's story inspired Barr, 21, to embark on a similar fundraiser - The Run for Arthritis: Sophie's 4 in 1 Challenge.
On November 23rd Barr, the 2009 Napier Girls' High School head girl, will attempt to complete a 30km run in Wellington which will involve 626m of climbing, taking in Mount Kaukau in Khandallah, the Northern Walkway, Brooklyn Windmill and Mount Victoria. "It's a course I've come up with by myself. It's a self-organised as well as a self-inflicted run. Putting my body through a bit of pain for one day is small in comparison to those who suffer from arthritis in their joints and bones every day," Barr explained.
What makes Barr's attempt such a significant feat is the fact she doesn't have a sporting background. Before the Victoria University student began training for the challenge her main source of fitness was a 15-year stint as a ballet dancer at the Rochelle Spence Dance Studio in Napier which ended five years ago.
"I've never been an athlete. But I played a bit of social netball and tennis during my school days," Barr said.
"However when I attended Outward Bound in 2009 there was a strong running focus there. I also learnt there that challenges like the one I'm embarking on are more a mind thing than a physical thing."
Barr pointed out Arthritis New Zealand is something close to her heart as her late grandmother Daisy Barr suffered from arthritis as does her father Duncan Barr, who recently had a second hip replacement, and cousin Rosie Clark who left Wellington in search of a warmer climate in Australia as part of her battle against the disorder.
"I'm starting my run outside the house where Nana Daisy used to live at the foot of Mount Kaukau. Nana never complained about her arthritis despite the pain she was in and I will use those thoughts to motivate me on the run," Barr said.
She will aim to complete the challenge in five hours. While her personal trainer advised Barr not to complete the entire challenge in training she has done the various links.
"Some of the training runs have gone well and afterwards I feel good. After others I've felt like rubbish ... you take the good with the bad," Barr said.
"Come the day I'm sure the adrenalin and excitement will take over."
Barr intends to tackle the challenge in any weather conditions but will delay it if it is too wet, as heavy rain will make the rocks too slippery. She will have different support runners on each of the four legs.
Her original goal was to raise $1500 and already she has been given $1727. "I've had some amazing support."
Funds raised will be channelled into research for cures as well as support for arthritis sufferers.
Barr said her training runs have provided welcome breaks from her studies. During one training session earlier this month she was on her feet for three hours and 15 minutes during a 21km run up the Ridgeline Track and Polhill Reserve to the windmill.
"It was hard going, especially at the end which forced me to realise the actual enormity of this run," Barr recalled.
Her long-term goal is to enter the teaching profession. Should she complete her challenge, and it will be a surprise if she doesn't, Barr will certainly have some motivational stories to pass on to her students.
It will be her turn to be an inspiration to others just as Law has been to her.
*To make donations to Barr's challenge visit https://give.everydayhero.com/nz/sophie