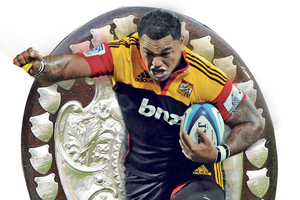 Magpies v Steelers
Ranfurly Shield
IT'S A given Hika Elliot will be experiencing myriad emotions, no doubt some totally alien to his constitution, when he runs on to a familiar turf tomorrow.
Whether the spurned Hawke's Bay Magpies hooker will receive the raspberries, akin to Quade Cooper, from the McLean Park faithful when he runs out with his new Counties-Manukau outfit remains to be seen but suffice it to say the 27-year-old can't wait to get on with the Ranfurly Shield match that kicks off at 4.35pm in Napier.
No, there isn't any hint of bitterness but someone exuding a sense of professionalism.
``I harbour no ill feelings towards Hawke's Bay or the people from the province I was
born in and where I have played for the last eight or nine seasons,'' says the former All
Black rake who last night didn't play for Counties-Manukau against Auckland during their ITM Cup match at Eden Park because of precautionary measures due to concussion.
Coach Tana Umaga opted to rest him for the Log o' Wood clash.
In April, Hawke's Bay Rugby Football Union CEO Mike Bishop said the 83-match Magpie
(2005-2012) didn't meet the union's expectation of value but the dumping found national traction when New Zealand Rugby Union CEO Steve Tew questioned Bishop's position.
Two-time Super Rugby title-winning champion Elliot expressed desire to stay with his
home union but instead found himself in ITM Cup provincial rugby wilderness for a while
before signing up with Counties-Manukau in the umpteenth hour.
``In life you always get curve balls thrown at you and you face all sorts of challenges but what matters most is how you pick yourself up to deal with such issues,'' says Elliot who is now based in Auckland but commutes to Hamilton to train with the Chiefs during summer.
The enormity of helping his new union lift national provincial rugby's most sought-after
prize is not lost on the former Hastings Boys' High School student, considering neither the union, in its 58-year history, nor Umaga have experienced that feeling.
``It's going to be a huge game for me,'' says Elliot, who used to play for premier club Tamatea Rugby and Sports Club in Hastings.
``It'll no doubt be a different kind of feeling so I'm looking forward to playing soon.''
His sense of kinship and affinity to his roots ensured he got in touch with his old mates in the Magpies fold when they beat Otago Razorbacks 20-19 in
Dunedin last Sunday night to break a 44-year shield drought.
``I was immensely proud of the boys and what they had achieved,'' he says, revealing he
sent text messages to the likes of Zac Guildford and company.
It delights Elliot to see so much home-grown talent involved with the Black-and-White campaign this season.
Among the bizarre experience will be looking around McLean Park to see whanau, friends and supporters who were once staunch Magpie fans now barracking for him as a
Counties-Manukau campaigner.
``I've got family up here in Auckland and also down in the Bay who have said to me they'll be wearing Counties colours to the ground.''
The Steelers have had 24 unsuccessful attempts to etch their name on the Log o' Wood
and, unenviably, possess the worst shield record among the unions in the ITM Cup.
Paramount to Counties-Manukau's challenge on Saturday is Elliot's ability to
lead a pack he considers to be predominantly green around the ears, relatively speaking.
The 110kg Maori All Black, who possesses a bullocking style of play and isn't shy to use his 1.86m frame to grasp the ball in one hand while fending off tacklers with the other,
considers himself at the cusp of his professional career and an asset.
The ex-Junior All Black, who has one more season to fulfil in his Chiefs
contract, says the ABs coaches have kept in touch with him and ``still see me as a hooker who is coming into his prime''.
Elliot has represented and progressed through all levels of rugby in New Zealand.
In 2004 he was part of the U19 team who won the World Championship in South Africa while he was still at HBHS.
He was also part of the New Zealand U21 and Secondary Schoolboys side, captaining the
latter.
He played for the Hurricanes in the 2008-09 seasons before moving to the Chiefs in 2010, with whom he made history by helping the franchise clinch two successive Super Rugby titles in 2012-13.