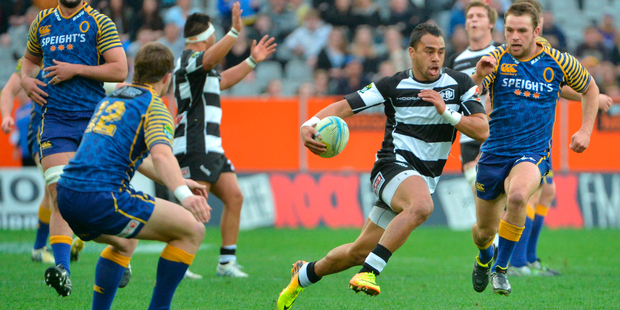 Give Ihaia West a Super Rugby contract and a berth in the All Black Sevens side for the 2016 Rio Olympics.
West, 21, proved he's the man for pressure moments with a man-of-the-match performance as the Hawke's Bay Magpies won a Ranfurly Shield encounter for the first time in 44 years with yesterday's 20-19 thriller in front of 20,000 fans at Dunedin's Forsyth Barr Stadium. His 57th minute try which he converted to put the Magpies 20-9 ahead was a cracker 49-metre solo effort.
The 2012 New Zealand under-20s representative succeeded with four of his five attempts at goal, impressed with his tactical kicking and his cover defence. The word after the Sevens Nationals back in January was All Black Sevens coach Gordon Tietjens felt West was too small for his training squad.
It will be a surprise if the astute Tietjens isn't having a rethink on West's behalf. If West doesn't score a Super Rugby contract in the next few weeks he should at least make a wider training group.
"It's an amazing feeling," West remarked shortly after posing for celebration photos with the shield and teammates.
"We could hardly hear anything but we heard our little support crew in the corner," West said pointing to a block of Magpies supporters decked out in their Black and White.
The Magpies led 13-9 at halftime. West said this lead wasn't as much as they wanted considering the amount of rugby the visitors had played during the second quarter.
"At halftime we were told to keep playing for territory and to cut out our mistakes. She was a nervous time during those final few minutes. I'm so stoked because after the two challenges we lost against Taranaki and Waikato last year I thought it would take a while to experience this moment."
Close behind West in the battle for player-of-the-match honours was lock Mark Abbott who again enhanced his chances of scoring a Super Rugby contract.
"Some of the boys have played in six challenges and never got close. It was a great atmosphere and everyone played so well," Abbott said.
Magpies captain and blindside flanker Mike Coman was almost lost for words as he accepted the shield from Otago captain and No8 Paul Grant.
"I'm so happy I don't know what to say. I must thank the supporters ... I know many of them have been waiting so long for this."
Grant congratulated the Magpies.
"It was a great game which went down to the wire. It was an awesome week and it wasn't through a lack of effort that we lost it. I have to thank everyone ... we tried our best."
Soft turnovers let the Magpies down as the Razorbacks dominated the first quarter. West missed his only shot at goal with a first minute penalty.
His Razorbacks counterpart Hayden Parker, who finished the match with three successes from six attempts, kicked penalties in the 12th and 14th minutes to give the hosts a 6-0 lead. West opened the Magpies account with a 30th minute penalty after Otago flanker Lee Allan was penalised at breakdown time.
The Magpies took an 8-6 lead in the 32nd minute when in-form winger Telusa Veainu, another who must be on the verge of signing a Super Rugby contract, scored after a clever break from centre Richard Buckman who unloaded to fullback Gillies Kaka who then fed Veainu. West was on target with the conversion.
Parker closed the gap with his third penalty in the 35th minute and West gave the visitors a 13-9 halftime lead with a 37th minute penalty. The Magpies had 51 per cent possession in the first half and 50 per cent of the territory.
Five minutes after West's magical moment Razorbacks centre Jayden Spence closed the gap with a try after a spectacular burst from Grant. Parker made up for his poor goalkicking when he put winger Buxton Popoali'i over for a 73rd minute try to set up those nervous final minutes West was referring to.
While all 19 Magpies, who took the field, and their coaching staff, led by head coach Craig Philpott and assistant Danny Lee, deserve praise for their contribution to this historic occasion West, Abbott and No.8 Mark Atkins, a second generation Ranfurly Shield winner (his father Dale Atkins was a member of Canterbury's Ranfurly Shield winning team in the mid 1980s), were the stars.
Lock Michael Allardice had his best game of the season, Buckman was impressive in all aspects of play. Like Veainu former All Black winger Zac Guildford was thirsty for work and more than made up for his sinbinning in Tauranga the previous week.
All Black prop Ben Franks made his Magpies debut when taking the field as a second half replacement for Max Lahiff. While he was strong at scrum time he wouldn't have been happy with a couple of soft turnovers conceded at the confrontation area.
Franks also missed a couple of tackles.
Winning the shield was a perfect 25th birthday present for starting hooker Ash Dixon and 49th birthday present for fitness trainer Grant Dearns.
Hawke's Bay age group product and Otago blindside flanker Gareth Evans was powerful before being subbed off. Another Otago loosie, TJ Ioane provided spectacular impact off the bench.
Otago's Japanese halfback Fumiaki was again classy. Popoali'i was always dangerous on attack and the Magpies were fortunate he chose to kick possession away on a couple of occasions when he shouldn't have.
So the time has come for the Magpies and their fans to prepare for a long-awaited Ranfurly Shield defence. The Counties-Manukau Steelers will be in two on Saturday with similar intentions to what the Magpies had yesterday.
Come on Magpies fans get behind Coman and co and become part of history.