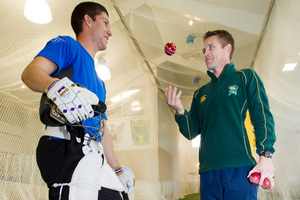 Ben Wheeler and Heinrich Malan the new Central Districts cricket coach pictured at the Whitmore park indoor nets in Napier. Photo / Glenn Taylor
Even when he was just 9, there was more than an inkling of promise that Heinrich Malan was going to be worth his weight in gold in South Africa.
Well, money, to be more precise, in a country blessed with mineral resources although Malan is now a viable export commodity, too.
When Pretoria-born Heinrich showed interest in cricket his father, Gert Malan, invested a tidy 52 rands on a bat.
"Yes, I scored 52 not out for the under-11 side I played for at my school.
"The funny thing is it was the first cricket bat my dad ever bought for me so it was a bit of a coincidence but it was all 52," the 32-year-old new Devon Hotel Central Districts Stags coach reveals during a hastily arranged interview at the major association's cricket headquarters at McLean Park, Napier, cafeteria before making a beeline for the nearby Whitmore Park indoor facility to help cricketer Ben Wheeler sharpen his skills.
But that dash pales in comparison to what Malan is trying to cover in his new portfolio as Stags coach in covering the geographical sprawl of a CD region that embraces as far south as Nelson and as far across North Island as New Plymouth.
Add to the equation the fact that players such as Carl Cachopa, Tarun Nethula and Ajaz Patel are based off season in Auckland and the complexity and enormity of Malan's yawning task becomes clearer.
It's just as well he's quite a laid-back bloke who enjoys cricket: "It's my life, it's what I do."
He was part of the furniture at the University of Pretoria for eight years as its manager of cricket before assuming the mantle of head coach.
He also worked for two first-class teams in South Africa.
"I'm quite passionate about cricket. I love cricket and the different formats of the game are quite intriguing."
Malan believes in using cricket as a vehicle to help develop self-sufficient young men who will better equip themselves with people skills in the overall process.
"It's about having fun and doing all of it."
No doubt, there's immense pressure in the environment but Malan reckons people only excel at things when they have fun with what they are doing.
The son of an electrical engineer and accounting industry employee Nicolette, Malan comes from a background where a hard-working ethic is a given.
His brother, Franswa, 29, is a chartered accountant and sister Charlene, 19, is a first-year accounting student at Pretoria University. They will all be tourists here in summer.
Malan has been married to Jana for two years and they have a 6-month-old daughter, Mila. The pair will arrive on September 20 to settle in Napier.
The couple pre-planned the staggered arrangement to enable Malan to establish a rapport with players and coaches in the far-flung districts of the CD catchment.
"I'm a family man, too, so it's going to be a tough few weeks without my family here but it's all for a good cause."
He has played a bit of rugby as a youngster and is partial to a round of golf, too.
"We basically grew up next to a rugby and cricket field."
So what's his golf handicap?
"Golf ... I just enjoy playing it," he says with a laugh.
He's also a fitness freak who averages 40km a week, pounding the pavements of Napier.
His father and uncle played cricket and the former coached a club team so for Malan, graduating to the realm of mentoring others was never an alien concept.
"In a perfect world I would have liked to have played cricket for a little bit longer but, yeah, six to seven years ago I made the decision to turn to coaching," he says, appreciating coaching offered longevity in terms of providing for his family and staying involved with the code.
"It's a change in mindset, more than anything."
The likes of Jacque Rudolph, Johann Myburg and Martin van Jaarsveld were permanent fixtures in the team dynamics in his playing days so, unfortunately for Malan, claiming a batting berth was never a foregone conclusion.
"You know, you've got to be adaptable and move forward in life so my next challenge was getting into the coaching side of things and that's been fantastic."
Like all batsmen, he had flights of fancy about bowling fast, too, but at the end of the day he was a top-order batsman who could "nibble it around a little bit".
From a coaching perspective, Malan loves to think he can add a lot of value to batting.
In fielding, he intends to challenge the boys to become sharper in catching, stemming the flow of runs and running out batsmen.
"From a bowling point of view, I'm always learning and it's been great since I've been here," Malan says, adding he had had a few discussions with CD director of cricket Craig Ross who doubles up as a consultant for New Zealand Cricket.
CD bowling coach/manager Lance Hamilton is his other point of interaction.
"It's about continual improvement so that you can learn from whichever personality is around."
That's the sort of mental flexibility he wants the Stags to adopt.
Malan's had an array of coaches help shape his career.
One of them, first-class coach Shafiek Abrahams, is now a national selector of the Proteas in South Africa.
Grant Morgan, who was also a backroom staffer with the Bangalore Royal Challengers in the IPL Twenty20 campaign, was another major influence as a provincial coach in South Africa.
"It's about taking as many things as you can from them and trying to implement them in the way that I want to do things.
"So you're learning from them but not necessarily doing what they're doing ... and putting my structure in place."
Hard work, passion and communication are the cornerstones of Malan's coaching philosophy.
"It's very important to me that we're looking after the individuals."
While keeping everyone happy in the squad is something he will aspire to but seldom attain, Malan is unequivocal about the players finding common ground for the hand that feeds, that is, the Stags.
"I believe people have their own opinions - no one's 100 per cent wrong or 100 per cent right - but for the bigger cause, that's CD, we've got to find common ground ... so the individual can grow but it's all for the betterment of the team."
Creating an environment for players to excel is pivotal so as to enable them to make a transition from training to walking out on to the crease on game days.
"It also gives them the opportunity to express themselves so, again, that brings back the enjoyment factor."
It's tantamount to finding a medium where players will be "happy in their own skin" but, fundamentally, pulling along the player next to them to achieve that goal, too.
"For however long I'm going to be here, if that's the one thing I can really derive and take forward then that'll be definitely it."
During the reign of previous coach Alan Hunt seasoned players such as George Worker, Brendon Diamanti and Seth Rance, as well as a swag of budding talent from the region, were part of an exodus to other major associations.
A few letters to Hawke's Bay Today also lamented the practice of enticing experienced players from outside the region at the expense of blooding the likes of Taranaki batsman Dean Robinson, who is back as one of 14 contracted players for the coming season.
Hunt, who was unsuccessful in gaining employment with his home association of Auckland and the Northern Districts Knights this summer, departed on mutual terms with CD at the end of last season despite winning the four-day Plunket Shield and coaching the Stags to the one-day Ford Trophy title the previous season.
Basically coaching here is a giant leap for Malan on a two-year contract.
"It's a great challenge and privilege to be involved with the Stags because they have a proud history and tradition so I'm definitely looking to grow on that."
While Malan harbours aspirations to reach the pinnacle of his profession, it's the now and existing process that will provide the platform for his future.
"If you look after the pennies, the pounds will take care of themselves.
"If you look too far ahead you might get caught up in where you want to go so it's all about getting to know the players and understanding the systems and structures with the Stags and trying to build on that."
It's que sera sera three to four years down the road with CD, as far as he's concerned.
While he is young enough to be one of the boys in the squad, Malan prefers to draw a proverbial line in the sand as coach.
"I'm the coach and that's not to say it's a position that's important as I'm on top and you'll do as I say.
"But there's a definite line in understanding the professional environment we're in."
Mindful opinions of one's self-worth can vary and complicate matters when egos surface, he prefers to promote the mantra of the collective to find a modicum of rationale to avoid a Lord of the Flies culture.
"Managing personalities, whether they have an ego or not, means I'll pull them across the same square.
"If your personality can fit in that square, with your ego or without it, then that's your baby but you've got to know what the team requires and what the Stags expect.
"It's about not letting yourself or your family down, too," Malan says.