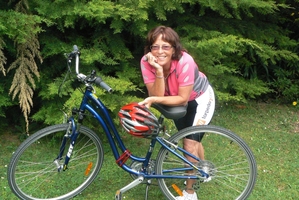 Six months ago I left a fabulous job as the reporter for the Hastings Leader and Havelock North Village Press to go and fulfil a dream. A dream that up until then I had had no intention of ever doing. Travel? Me? Alone? No way - it was not on my bucket list.
So what inspired me to leave my family, animals, friends and home with nothing but a backpack?
An epiphany. I woke up one morning and said I know what I am going to do, I am going to head over to England and Ireland and wwoof (willing workers on organic farms) for six months. It is a great way of seeing the world cheaply, as well as living with the local people in their environment, therefore getting to know the district, customs and locals at the same time.
Having made the decision to go, I happened to see the movie The Way with Martin Sheen walking across Spain to Santiago on a pilgrimage. Wow, thought I, I can do that as well.
From that time on the cast was set. I would fly into Paris, stay two nights, catch a train to the south of France to stay with a Kiwi friend there, then walk across Spain for however long that may take, and head to England to start wwoofing.
Nothing was planned until I arrived at each destination. Some people thought me crazy - others were blown away and inspired. At 58-years-old with only my pack I went and had the most amazing journey of my life, to date.
First stop Paris. Because this was my first trip into Europe I thought a couple of nights in Paris were a must. Especially as I had a son who lived in England and he and his girlfriend were to meet me at the airport. Imagine, if you will, heading through customs, very excited to finally see my son again after a year to realise nearly an hour later that they were not coming.
I don't speak French (some schoolgirl basics only) and had no phone. I follow the signs "Train to Paris" stopping briefly at an information desk to ask what trains I need to board to get to my accommodation - a hostel called Peace and Love.
Finally at the station I asked a woman where to buy the tickets. She kindly pointed to machines that looked like something out of an alien movie. Slightly panicked and a tad stressed by this stage I asked a gentleman next to me if he spoke English. I pointed to where I was trying to get to, he indicated that he was very busy and would be with me in a minute. Next thing I know, he turns to me, hands me my two train tickets and says "Welcome to Paris!"
This was my first introduction to Europe and I have to say it continued in this way the whole time I was overseas. The people were amazing and renewed my faith in human nature.
Daily we hear atrocious stories from all over the world and I am delighted to be home and to tell people that never once did I have a bad experience.
I stayed in the south of France in a tiny village called Accous for 10 days with a Kiwi friend. After 10 days of total relaxation and wine, he drove me over the Pyrenees to Roncesvalles (at the base on the Spanish side) where he literally opened the door of the car and said "Bye, have a great walk."
The sign read 790kms to Santiago, and there was not one person in sight. To walk the El Camino you follow yellow arrows. They are well marked and regularly spaced. I was nervous, excited, apprehensive as I started walking on my own into what was totally unknown territory. I had a torn knee that had caused me no end of trouble in the months preceding this journey. I did not even know if it would carry me for the whole pilgrimage.
Waving to my friend I nervously began walking, every now and again saying out loud to myself "Wow, I am walking across Spain".
Jen Dillner is a journalist on sabbatical.