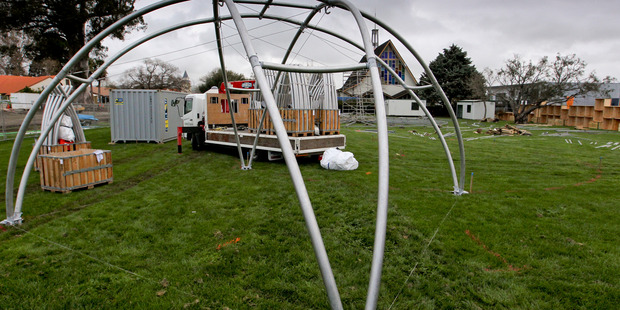 The construction of the famous Spiegeltent signals the approach of the 2016 Harcourts Hawke's Bay Arts Festival.
The one twenty-foot and two forty-foot containers arrived from Wellington in the early hours of Friday morning, containing the 19 tonnes of structure required to erect the 340-seat Spiegeltent.
Built in the 2001 to withstand the New Zealand climate, the tent known as The Pacific Crystal Palace will serve as the main entertainment hub for the 13-day festival.
Performances will also take place at The Blyth Performing Arts Centre at Iona College, the Century and Municipal Theatres in Napier and several art galleries in Hastings.
The Pacific Crystal palace is owned by a New Zealand consortium of festivals and is lavishly decorated with stained glass windows, wood panelling and flooring, ornate lighting and mirrors. As with its 2015 predecessor, The Famous Spiegeltent, it is equipped with a stage, bar area and individual seating booths.
Festival Director Pitsch Leiser says construction of the tent will begin on Monday, with the build expected to take just four days. The tent comes with its own touring crew who oversee the construction of this unique venue. Comprised of more than 3,000 individual pieces, the whole structure is like putting together a "giant 3-D jigsaw puzzle," says Mr Leiser.
A bespoke perimeter fence constructed from Bostock's apple bins will surround the tent and give the site a distinctly Hawke's Bay flavour. A special addition to this year's event is the Festival Garden where festival-goers and the public can relax and enjoy great local hospitality before and after each performance.
Mr Leiser says the arrival of the Spiegeltent is an exciting touchstone for the festival, and he expects there to be a lot of buzz surrounding this exotic travelling venue.
"There's something magical about a performance in a Spiegeltent," says Mr Leiser, Audiences love them for their uniqueness and intimacy and the performers love them because they can really connect with the audience."
The festival site will be officially opened on October the 4th with a blessing and an early evening function for invited guests. The opening performance of the festival will take place later that evening with the first of two sold-out performances of the hit show Daffodils.
The festival will run October 4 -16.