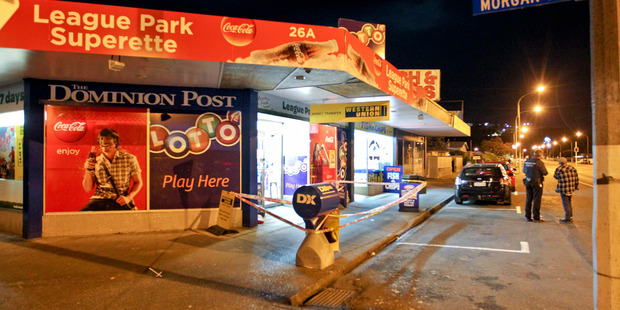 At least one female is thought to have been involved in a robbery in which a dairy proprietor and a customer were held at gunpoint while thieves raided the till and a cigarette cabinet in Napier on Friday night.
Detective Wayne Steed, of Hawke's Bay CIB, said yesterday at least one of the trio was thought to have been female, and police are urgently trying to identify who was involved in what was an apparent escalation of the biggest spate of aggravated robbery in Hawke's Bay police history.
The robbery of the League Park Superette on the corner of Taradale Rd and Morgan Ave and a short distance from the Napier Fire Station was the the 17th aggravated robbery reported to police in Hawke's Bay since May 26. They include nine in Napier and six in Hastings.
But it is the first confirmed as involving a firearm, a rifle being clearly visible as it was pointed at the shopkeeper and then a female customer who arrived in the store as the robbery was taking place.
Other robberies involved such weapons as a machete, knives, and a hammer, while in some cases robbers had hands concealed by cloths or clothing to cast the impression they had firearms or other weapon, and females are thought to have been involved in at least two of the other dairy raids in Napier.
In Friday's holdup, a trio in mainly dark clothing entered the superette about 6.30pm, possibly having waited nearby to make sure there were no customers in the store when they launched the raid.
They had the weapon pointed at the shopkeeper when a customer walked in, and both were herded into a corner at gunpoint as the cash and tobacco products were stolen - the targeted goods since the first of the robberies happened just hours before more tobacco price rises were announced in Budget 2016.
The robbers ran across Taradale Rd in their getaway and headed into Henry Hill St towards Marewa Park and then Morse St, from where it is possible they fled in a vehicle.
Mr Steed it's important the robberies are stopped and with the tobacco stolen because of the value the goods were likely to be offered for sale.
"Someone will know who they are," he said.