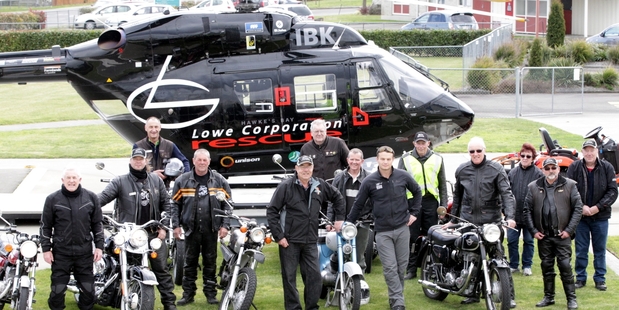 Through recent years members of the Hawke's Bay Classic Motorcycle Club have done their bit to raise what president Eric McDougall modestly described as "a few bob" for the Lowe Corporation Rescue Helicopter Trust.
"We've supported them through the years and done some bucket collections for them," he said.
On Saturday a group of club members arrived at the trust's helicopter base off Orchard Rd in Hastings with a little more than a bucketful of financial support for the service.
They presented a cheque for $10,000.
The money came from door takings at the Evolution of the Motorcycle show they staged last month at the Hawke's Bay A&P Showgrounds last month.
"The success of the show has enabled us to do this," Mr McDougall said.
Lowe Corporation Rescue spokeswoman Louise Harvey said the rescuer service team were humbled by the generosity of the motorcyclists.
"It was really amazing and this sort of generosity is so vital to the service... really good people doing their bit for the community."
It was the second part of a community "give" by the club members.
Last weekend, also from show proceeds, they presented the Girlguiding NZ's Omatua Camp at Rissington with a brand new $1200 barbecue as well as a cheque for $900.
"It's what you do," Mr McDougall said.
"You put something back."
The big bike show, which drew thousands of visitors, was unlikely to be the last, he said, although there were no plans at this stage when the next one would be held.
"It takes a lot of work but, yes, we'll put another one together some time in the future," he said, adding it too would be a fundraising event.