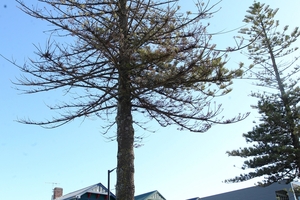 One of the landmark Marine Parade Norfolk pines is set to get the chainsaw next Monday.
"Trees have a limited life span, and this one has suffered from a variety of additional stresses including drought, its proximity to a busy road and a lack of nutrients," Napier City Council reserves asset manager Tony Billing said.
Taking down a tree, especially one of the pines which were planted back in the 1890s, was never an easy decision but in this case the council had no choice, he said.
"We have done a lot of work on the pines through the years but some of them are now suffering a bit - some are getting very old."
The tree had deteriorated to the stage where it was now a potential hazard to passing traffic and pedestrians as the dying limbs were drying out and liable to break off and fall.
"When they are in a poor state of health like this they have to come out."
The age of the original trees, planted as a Marine Parade redevelopment programme which cost about 12,000 ($24,000), was such that others were likely to start dying off.
"It is inevitable - all trees have a finite life," Mr Billing said.
Norfolk pines have a lifespan of about 150 years.
The trees on the median strip are about 120 years old.
While they are described as hardy and able to tolerate salt and wind, making them ideal for coastlines, much of the stretch they were planted on contained poor nutrients.
"They would have also been suffering stress from root compression because of traffic through the years.
"When they were planted there was no dual carriageway there."
Mr Billing said the pine would not be replaced, and while they would all eventually come down at some stage over the next few decades the pines planted along the grass strip beachfront had plenty of life in them. "We are able to manage the ones planted later a little better."
Contractors are expected to begin felling the pine, which is about 150m south of the Albion St intersection with Marine Parade, early Monday to avoid too much traffic disruption. There will be temporary detours in place during the morning.