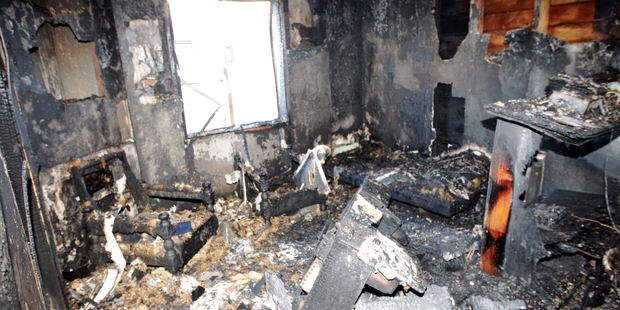 A family of seven escaped tragedy by jumping from exploding windows as flames poured from a Hastings home, threatening nearby residents and their properties.
It is believed that two families share the Riverslea Rd South house that caught fire just after 2am yesterday, including five children and two adults who were in the home at the time of the blaze.
All five children and one adult were taken to Hawke's Bay Hospital but were later discharged, a hospital spokeswoman said.
"I heard the glass exploding and could see the flames pouring out of the windows," one neighbour said. "It was really scary, a lot of yelling and smoke. It just travelled so fast."
Fearing the fire would spread, she quickly evacuated her own home with her three children and provided blankets to the family of seven as they watched the wooden home succumb to the searing blaze.
"They were all shocked, the kids were shaking. They weren't saying much, what would you say?"
The property owner, Sarah Rogers, was in Wellington when she saw the home destroyed and reduced to a charred shell on morning television.
The Central Hawke's Bay resident was devastated when she returned to a still smouldering home that had helped raise her family. "It's the first home that I bought. It's heartbreaking, there are a bucket load of memories here," she said.
"I'm just so thankful that the family got out okay. The most important thing is that nobody was seriously hurt or died and that the neighbours' properties weren't affected."
Another neighbour awoke to the sound of the fire and pulled back the curtains to see furious flames encroaching on her home, before raising the alarm with her partner and two children.
"[The family] jumped out the window and ran from the big flames that were bursting out the sides ... we were worried the fire was going to reach our house because the wind was blowing our way," one resident said.
Fire crews remained until 6am and returned yesterday afternoon to quell the embers, while fire safety investigators will begin to determine the cause of the blaze.