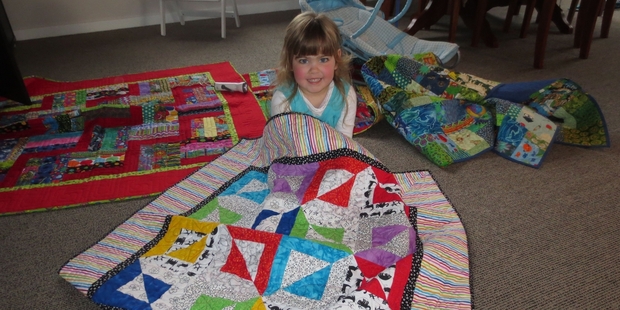 Four fun quilts made by children at this year's Wine Country Quilts Exhibition are now brightening up the lives of other youngsters facing more challenges than most in their lives.
Primary school students from Takapau, Waipukurau, St Joseph's and Pukehou schools unleashed their creativity at a number of sewing workshops during the exhibition at Pukeora Estate, Waipukurau, in March.
Using fabrics donated by Hawke's Bay patchworkers and quilters they made up blocks, which were quilted by Miep Jager, Carol Slingsby and Quiltique.
Two of the quilts have gone to Ronald McDonald House in Wellington and one was given to Maddison McQuade, a 3-year-old from Napier who is a Type 1 diabetic, exhibition convenor Anne Russell said.
"Maddison is adapting very well to the restrictions of the disease but the family has a long journey ahead. She was quite delightful when given the task of picking a quilt for herself," Mrs Russell said.
The fourth quilt went to Veronica's Place in Waipawa, a safe support home for young women facing an unplanned pregnancy.