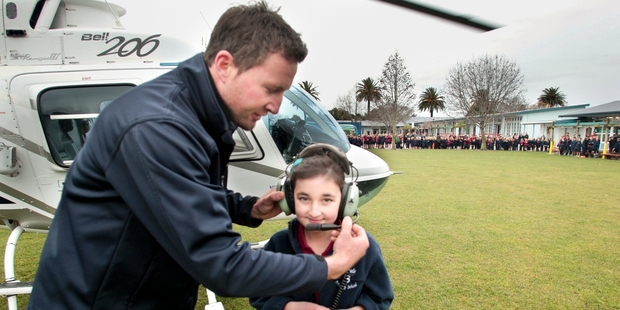 For Taradale Primary School pupil Sophie Richardson, getting back to school after the holidays reached new heights - very high heights.
The 8-year-old was grinning from ear to ear as she arrived and became the envy of her chums and everyone else at the school who turned out in the main field to welcome her.
It was no ordinary arrival - she stepped out of a Bell 206 Jetranger helicopter.
She was understandably fizzing, as was her 4-year-old brother Blake and her dad, who also got to take the 10-minute flight from the Helicopters Hawke's Bay base at Bridge Pa to the school.
She described the unique journey to school as "really great".
The youngster had come up trumps in one of the most popular on-air competitions staged by radio station More FM.
"Sophie let out a squeal of delight when we rang her live on air to give her the good news," breakfast show host Kevin Wagg said.
He and co-host Megan said it was a good feeling to be part of creating what would be an enduring childhood memory for the youngster.
Sophie's mother Ngaia said her daughter had always loved helicopters.
"She has always begged us for a ride in one. The closest she has ever got is having her photo taken standing outside a helicopter in Taupo."
While the weather was slightly gloomy, the Jetranger ran a lower course which gave Sophie and her family a great view of the region below.
Pilot Richard Addis also gave her a run-down on how things worked, and she said that yes, one day she would like to fly one.
Her schoolmates had waved and welcomed the helicopter as it approached.
School principal Marty Hantz said the whole school had been excited at the prospect of having a helicopter call in - more so with one of their own aboard.
"We were thrilled one of our students won such a fabulous way to arrive back at school to kick off term three."
For Sophie it was indeed the best start to a new term imaginable, and she flew through the rest of the day.