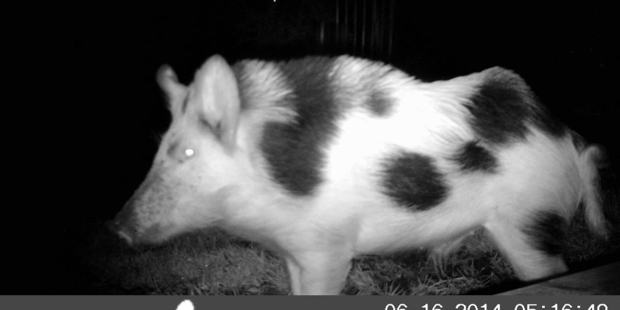 The Napier City Council is "delighted" a wild boar that evaded capture for weeks in suburban Napier, damaging properties, defecating in public and endangering residents, has been removed.
Residents in Milton Rd, Colenso Ave and Napier Tce had complained to Animal Control after waking to find damage done to their gardens overnight by a mystery animal during a three-week period.
A loose pig was identified as the culprit and it evaded capture until Tuesday this week.
"We can confirm the pig was successfully captured on Tuesday morning," a Napier City Council spokeswoman said.
The council's Animal Control team originally set a trap, to no avail.
Finally a specialist pig dog was used to catch the pig.
"We had considered shooting the pig, but for reasons of public safety in a built-up area, it was decided using a dog was a better option."
The dog used, and its owner, were "very experienced and extremely capable".
The pig was a wild Captain Cooker boar, which the council confirmed yesterday "has been killed".
An Animal Control officer, who is also an animal welfare inspector, oversaw the pig's capture to ensure it was done humanely.
The pig had done considerable damage to private property; rooting up lawns, destroying wooden access steps on hill properties, as well as defecating in public places and on private property.
Colenso Ave resident Peter Hide said after being dismayed by the pig's handiwork in his garden for three weeks, he set up a motion-sensing infrared camera on a post on his lawn.
A week later, the electrical engineering consultant checked the camera to find several images of the pig digging in his garden.
"I was a bit surprised really. It's not often you see a wild pig in town."
The council spokesman said the council's main concern while the pig was on the loose was public safety.
"We are delighted the pig has now been removed with no further damage.
"Wild boars can be extremely aggressive and dangerous to the public and we are pleased this situation has been brought to an end."