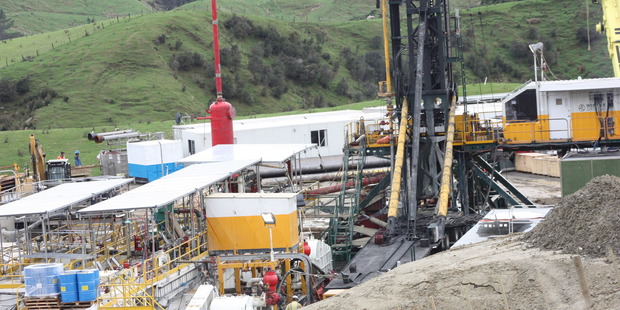 Fracking is likely in Hawke's Bay, the Parliamentary Commissioner for the Environment, Dr Jan Wright, says.
In her report on the environmental oversight of drilling for oil and gas, released yesterday, she said fracking in the East Coast Basin's shale rock was "a very different proposition from the tight-sands fracking in Taranaki for over 20 years."
Regulators were "scrambling to catch up" with a rapidly expanding industry overseas but New Zealand had the opportunity to "get ahead of the game" if councils improved oversight and regulation, which were erratic.
The East Coast Basin is in an exploratory phase so setting ground rules was a priority.
"The shales in this area are likely to require fracking, and potentially hold billions of barrels of oil," she said. "The East Coast Basin has been compared to large oil fields in North America. Commercial production, at even a fraction of the scale of these fields, would radically change both the environment and economy of this part of the country."
Fracking, the stimulation of a well by injecting sand-bearing water into the source rock to crack it and keep the cracks open, is controversial because of concerns about chemicals added to the fracking water.
Taranaki industry management had deficiencies and fresh thinking was needed. Hawke's Bay's earthquake risk was also an issue. "The region is drier and very reliant on a number of key aquifers. There are major known earthquake faults, so wells would be more vulnerable to damage from seismic activity, and therefore more likely to leak into groundwater." Because Hawke's Bay increasingly identified itself as a premium food and wine region there may be conflict with a the oil and gas industry.
Dr Wright said because the Government actively encouraging exploration and received loyalties from the industry it had an obligation to support, guide and, where necessary, direct councils on how they needed to manage the industry.
Hawke's Bay Regional Council interim chief executive Liz Lambert said the weighty report needed to be fully considered over coming months.
It has said it would look to change its Regional Resource Management Plan if effects of the oil and gas industry were not adequately addressed.
Labour's Napier candidate Stuart Nash said the council needed "to get cracking and ban fracking".
Mrs Lambert said the report did not suggest a moratorium but had called for more regulation which would be "carefully considered".
Don't Frack the Bay spokesman and Napier Green Party candidate Paul Bailey said they were pleased with the report and agreed with all points made.
"We are happy that the commissioner has acknowledged that regulations are inadequate," he said.
Environment Minister Amy Adams and Energy and Resources Minister Simon Bridges said the report was "a useful contribution to the discussion" on fracking and managing industry development.
Canadian company TAG Oil plans to a drill a new well in Gisborne, one near Porangahau and an already-drilled well east of Dannevirke would be tested. CEO Garth Johnson said it supported the comments on high standards "particularly around well integrity being a key to the safe development of the oil and gas industry.
"TAG has said publicly for a long time that the highest standards of well design, planning and construction are crucial to the safe extraction of oil and gas."
He did not yet know how much fracking would be needed on its East Coast wells.