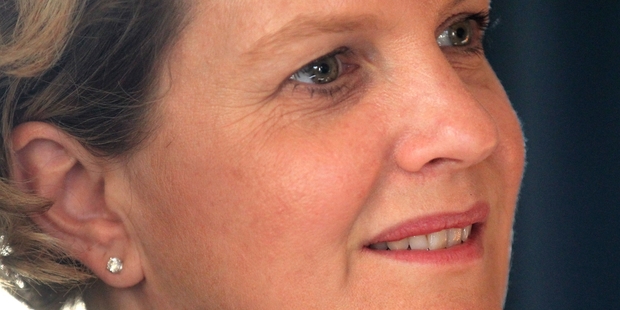 A Hastings mum diagnosed with terminal cancer will travel to Germany for treatment after raising $30,000 in 10 days.
Kirsty Porcer, 42, will fly to Germany on Saturday to begin full body hyperthermia - the first New Zealander to undergo the experimental treatment.
The mother of two broke the $30,000 threshold on the Givealittle website yesterday after being inundated with donations, many of them anonymous. Mrs Porcer said it was "amazing" to hit $30,000.
"I was in tears again. I didn't think it would be possible, but the response has been overwhelming." Hawke's Bay Today ran two stories on Mrs Porcer's plight the result was an overwhelming response from the public with her Givealittle fund increasing by $11,000. By Sunday it had reached $20,500. Yesterday a post by a friend of Mrs Porcer on the Hawke's Bay Today Facebook page said: "Hawke's Bay Today you rock! A true community paper, supporting our community and the community members. Big Thumbs Up!"
As word spread, Mrs Porcer had received anonymous donations to the tune of $1000 and found "piles of money" in her letterbox. "I've been energised by the whole experience. I have literally quartered the amount of painkillers I was on because I'm so excited," she said.
"According to the medics at the hospital, that was 'it' for me. But this is a second chance. I'm forever grateful. I'm going to beat this."
The former Havelock North farm girl was diagnosed with breast cancer in July 2012. In January doctors told her the stage four breast cancer had mestasised to her bones, including her hips, legs, knees and spine.
The cost of the treatment in Germany would be about $100,000 and thanks to the generous offer of a loan, which will be repaid using money raised through Givealittle, Mrs Porcer was preparing to leave New Zealand and undergo three weeks of the "hands-on" treatment. "I've got a million things to do over the next few days," Mrs Porcer said.
She planned to check into hospital next Monday and begin treatment on Tuesday. Hyperthermia treatment involves the controlled heating of cancer affected areas of the body. She would stay at the hospital with her sister, who had been learning German for a year.
Mrs Porcer was last in Germany in 1992 for the German beer festival. This would be a "slightly different trip," she said.
A sky couch would accommodate her during the flight because the tumours in her spine made it uncomfortable to sit.
Mrs Porcer planned to return in early May "fit as a fiddle."
She acknowledged the support of her mother, who would be looking after her children during the three weeks she underwent treatment. "Mum is not well herself, but she's been looking after me and my children for the last 22 months."
To donate go to: givealittle.co.nz/cause/Webbkiss