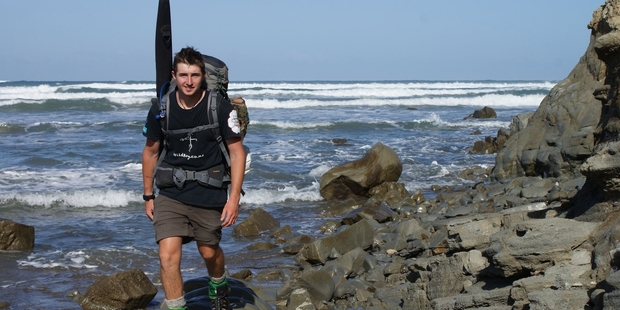 Brando Yelavich, aka Wildboy, is conquering his own Mt Everest, undertaking an epic personal challenge to walk the entire coastline of New Zealand.
The 20-year-old from Auckland reached Mangakuri Beach last Thursday on a journey that began at Cape Reinga in February last year.
His footsteps have taken him down the West Coast to the bottom of the South Island and back up the East Coast, never straying more than 5km inland.
The impetus for what he describes as his "journey of self-discovery" came about with a feeling that he was going down the wrong track in his life.
"I was getting into drugs - I didn't like who I had turned into and wanted to clear my head, to change my life."
Part of that change was to give back, and to that end he has been raising money for Ronald McDonald House along the way.
"I chose that charity because anyone can be affected by cancer."
The modern day adventurer is not doing it easy. During the past year, he's lived off the land, hunting and fishing for food - wild goat, possum and fish, supplemented by the likes of watercress and puha - and dossed down in a small tent.
While keeping to the coast as much as Mr Yelavich can, when it becomes impossible he rings farmers and crosses over land.
"I will go to one and ask for the neighbour's number - or often they will pass it on to let the next farmer know what's happening."
Mr Yelavich said the most challenging part to date had been spending the winter months on the "freezing cold" West Coast of the South Island.
The best part was the people he has met and his own personal growth. "At the start it was about being alone and finding out who I was, and now the experience is creating who I am."
To his knowledge, no one else has attempted to circumnavigate New Zealand's coastline on foot.
Mr Yelavich believes what he is doing is just as significant as climbing Mt Everest.
"I want to be the first person to put my name to this," he said.
The end is nearly in sight - he departed Mangakuri Beach on Friday morning and expects it will take about another three months to complete his journey.
To date, he has raised about $12,000 for Ronald McDonald House, and his goal is to reach $20,000.
People can follow Brando's journey and contribute at www.supportbrando.co.nz or www.wildboy.co.nz