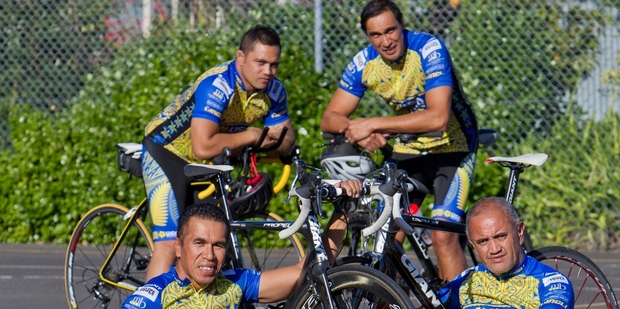 When Talaleilei Taufale was a teenager the boys at his high school in Wellington used to give him and two fellow Samoan mates a fair bit of jovial ribbing in the back of the classroom.
"The three of us were Pacific Island Samoans and we went to the same church so the other boys used to jokingly call us three little pigs," says Taufale, who will turn 47 next month.
No points for guessing why the Wellington-born Taufale and his mates copped a bit of flak but, needless to say, they were the type of youngsters who ducked for cover any time teachers mentioned PE or cross-country.
"When I was a teenager I was obese. I was about 83kg as a third former."
They did front up for rugby but young Talaleilei wound up propping the scrum with fifth and sixth formers instead of the juniors in his third-form year.
"I broke my arm in rugby one day and one of the guys said, 'Why don't you play basketball?"'
Talaleilei did but because he was still wet around the ears he failed to make the cut for the schoolboys in oversized shorts and tank tops.
"That spurred me on to train harder. I was passionate and that pushed my fitness up so things started to happen for me."
Did it ever.
Enter T Taufale who went on to clinch two national basketball titles with the former Hutt Valley Lakers with another stalwart, Jeff Green, who went on to become a coach.
A point guard, the son of (mum) Fa'atele and the late Mulipola (high chief title) Uale Taufale then roosted with the Hawks basketball franchise before assuming the mantle of coach.
But this story isn't about the man who also has won a national title in Ultimate Frisbee or raced in the A grade with the Hawke's Bay Ramblers Cycling Club at the nationals and completed 14 laps of the Lake Taupo circuit (10 as an individual and four with a team).
Neither is it about his other accomplishments in multisports, fun runs, the Napier Half Marathon, Triple Peaks relays and IronMaori.
Taufale is on a crusade to find traction with USO Bike Ride - a Pacific and Maori movement that started in 2011 and has cycled the length of this country and around Manu Samoa.
Tomorrow, as the Pacific health manager of the Hawke's Bay District Health Board, Taufale and his team of 10 are providing a platform for family-orientated rides to boost people's health.
"It's funny in that I was doing the USO Bike before I got the job," says Taufale who started work with the DHB in early 2012.
Twenty-five to 30 teams of six to eight people will take part in tomorrow's USO Bike Ride Relay along a 7km circuit that will start and finish at Twyford School.
While up to two in the team are riding, the others will engage in other fun activities such as playing darts or dancing.
Taufale and his team are working through churches to entice Maori Pacific people but the vision is to embrace anyone.
"We want to grow it but we've got to get it right first."
The Ramblers club has come to the party by declaring it won't be staging its club ride next year so as to ensure members can provide some impetus for the worthy cause.
"It's a community thing, not just for Maori and Pacific Islanders," he says, alluding to how the non-Pacific Wellingtonians got behind a similar drive recently.
"They felt it was great and they were eager to do it again so we'll hold another one in Porirua later this year," says Taufale, whose team will ride in Samoa as well as Hawaii this year.
USO stands for "brother" in Samoan but Taufale emphasises it's gender neutral when used in the cultural context and, therefore, didn't want females to shy away from the cause.
Primarily there's an acceptance that food is the common denominator in Pacific cultures.
"Everything revolves around food, whether it's church hospitality or visitors turning up so food is part of our culture."
Without doubt it is a good part of the culture and one he can recall with fondness to his childhood days.
Make no mistake that Taufale still loves his chop suey, taro and Pacific Island desserts and pies.
"But you've got to burn them off because eating without exercise can have bad consequences for health."
A svelt 86kg these days, Taufale says one of his two classmates has trimmed down like him and lives in Brisbane, advocating a healthy lifestyle to his children, while the other, in Auckland, has suffered a mild stroke.
"At our age you have to take extra care because we're not young and carefree."
He dispels any preconceived notions that Pacific communities don't care about their health "because we do".
"Our people do realise we have to make changes [to our diet] and habits but they also need that support."
Taufale feels it's easy to tell someone to cut out fatty food and sugary drinks but to make drastic changes can be a huge mental and emotional challenge.
Consequently his workshops impress the need for support and a philosophy of gradual sacrifices to realise the incremental worth of what they are trying to attain.
"We tend to ask them to do things like reduce your salt intake and go for walks rather than run, which all don't cost anything."
The overriding issue for Taufale is not to promote USO Bike Ride as an event that will eventually become burdensome on the participants.
"When the event stops, what then?
"We want the Pacific people to be riding not just to train or for fun but to work and home so that it becomes a lifestyle habit."
He is a director of the ride, with his wife, Meriama, and friend Chris Te'o, who initiated the ride, after his father died of pancreatic cancer, from Auckland to Wellington with brother-in-law Mark Lerwill.
Taufale says Cycle Pathways and the climate here mean Bay people can enjoy the routine throughout the year.
Sponsors Giant, who manufacture elite professionals bicycles, are receptive to suggestions to modify machines to not only cater to people with heavier body weight but also make them affordable.
"Unlike a gym, once the membership has lapsed you will always have your bike."
The second USO visit to Samoa will be a drive to battle child cancer while the Hawaiian one is to promote a healthy lifestyle.
Contrary to yesteryear, Taufale says trim, fit people spreading the word to Pacific people helps create a healthier overall picture compared previously to when "talkers" championed the benefits of exercising.
It is imperative, he says, people in Hawaii and Samoa pay for his team to travel and absorb billeting costs so those receiving the benefits see it as an investment rather than just a "free holiday".
The USO team also intend to ride the length of New Zealand next year to highlight that exercising also helps keep cancer, heart disease and diabetes at bay.