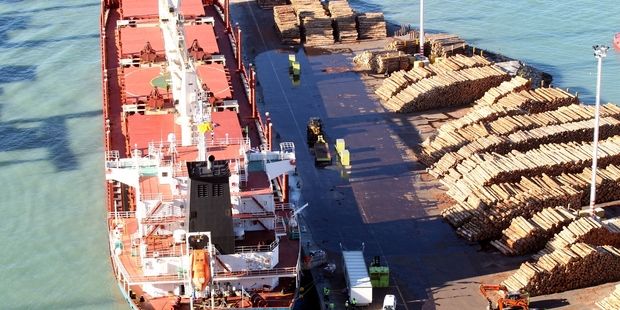 Labour has promised to upgrade 500km of East Coast roads and forestry tracks if they win this year's election.
Party leader David Cunliffe told Hawke's Bay Today that contestable funding for 500km of roads and tracks would be provided through re-establishing the Regional Development Transport Funding.
This would assist with upgrading local roads so they can "cope with the demands of forestry". The 2002 fund provided about 500km of upgraded roading in East Coast/Hawke's Bay and Northland.
East Coast logging contributed more than $200m to the national economy in 2012, a figure expected to double by 2020 and Mr Cunliffe said wood processors were having difficulty securing a steady supply.
"Part of that is about the ownership structure of our forests. There is very little integration between forest owners and processors," he said.
"Long-term contracts to supply logs makes for a relatively low risk life for them, but that doesn't necessarily maximise the value and/or employment or the productivity of New Zealand. That's why it's important that the government is farsighted and brings to the equation a set of incentives and penalties that would stimulate the domestic demand and allow for full-scale production in our processing sector to become internationally competitive."
Napier's National Party candidate Wayne Walford said it was "interesting" Labour was offering to invest in infrastructure and roads given the Green Party - a likely Labour coalition partner - was against more roading.
The market, as opposed to Labour's proposed incentives and penalties, drove demand and production, he said.
Mr Cunliffe said Hawke's Bay exporters could expect relief from the country's high dollar in a related Labour policy.
"We are going to be changing monetary policy by amending the Reserve Bank [Act] to improve our current account settings - that means a better life for exporters."
Labour would be making announcements on economic sectors over the coming months "as a journey from volume to value for our primary production, focusing on processing and value added - looking at the three key levers of investment, innovation and industry development".
The promise comes as part of a suite of policies intended to boost forestry and wood processing.
They include a "pro-wood" policy for new government buildings, tax breaks for investment in new processing plants, and special loans for tree planting.
Mr Cunliffe announced the package while speaking to the Forestwood Conference in Wellington yesterday, saying they intended to move the industry's focus from "volume to value". additional reporting APN