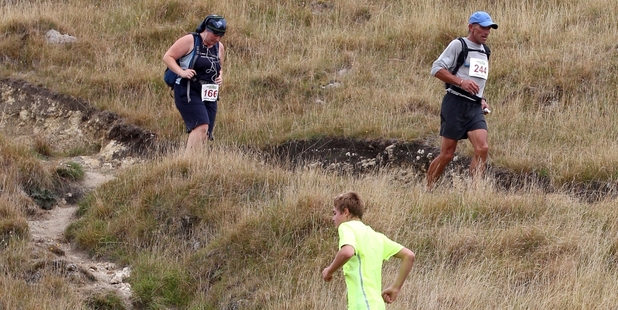 Cyclone Lusi may have turned the annual Triple Peaks Challenge into a single hill event but organisers say the last-minute course change didn't put a dampener on Saturday's multisport race.
The running, cycling and walking challenge, which has been run for the past 26 years, traditionally includes climbs of mounts Kahuranaki and Erin as well as Te Mata.
But with Lusi threatening to bear down on Hawke's Bay, the decision was made on Friday to confine the event to a single location, in the interests of maximising the safety of the 680 competitors.
"We'd marked out the course and were all ready to go but then the severe weather warning came through and we had to act for people's safety," organiser David Tait said.
"I'm old enough to remember Cyclone Bola [which hit Hawke's Bay in 1988].
"It came down the west coast and then jumped across to the east and smashed this side.
"So these things don't run on rails."
The modified course, a triple climb up the 399m-high peak, meant a 41km journey - in wet, windy and humid conditions - for individual and team runners, and a 39km trail for bikers.
It made the event easier to manage if the weather had become a safety concern, Mr Tait said.
"If we had needed to call the race short we could still have had a winner and could have kept people safe by calling them in as they were coming in and out of the transition [area] in the domain.
"If it had been the full course they would have been stretched out across the three peaks."
An upside of the change was that it created a "nice environment" in the transition area that hadn't been seen in previous events, with onlookers cheering competitors on as they arrived and departed.
"We were pretty happy we could still deliver an event for people and they haven't missed a year," Mr Tait said.
Rubbish complaints, p7
Weekend in pictures, p16
Full report, p32