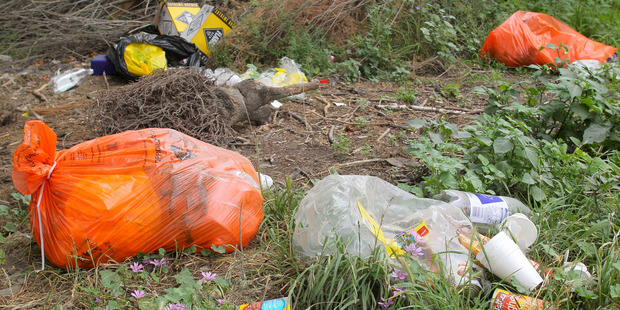 Workers from the Hastings District Council were yesterday faced with the task of cleaning up a pile of rubbish containing hundreds of bottles, scrap metal and household waste dumped on the side of Irongate Rd West at the weekend.
Waste minimisation officer Dominic Salmon said the incident highlighted the sheer laziness of a very small number of our community.
"The effort invested in dumping this material on Irongate Rd must have been significant, especially when considering the weight of the dumped materials. Even more frustrating, it looks like the people involved have even gone to the effort to colour sort their glass bottles."
Mr Salmon said the scrap metal could have been taken to a scrap dealer or a refuse transfer station free of charge.
He said the glass bottles could have been recycled through kerbside recycling or the Henderson Rd and Martin Pl recycling depots.
"The argument that high dump fees are the cause of such incidents is ridiculous. The amount of actual rubbish associated with this incident could have been disposed of in an official rubbish bag for $2.60, yet due to the action of these selfish persons it has cost council hundreds to clear up this mess."
Mr Salmon said the council was reviewing all illegal dumping data collated through the road maintenance contract to identify areas that are targeted.
"The identified areas will then have temporary CCTV monitoring installed on a revolving basis so that the culprits can be identified and infringement notices issued, or in the case of large incidents, prosecuted."
Shirley Wilson, who contacted the Hawke's Bay Today after the rubbish was dumped outside her Irongate Rd West property, said it had been "cleared up absolutely".
"They should be installing cameras. Even if it's only a box being dumped, people need to be heavily deterred."
The council can issue fines up to $400 for dumping rubbish.