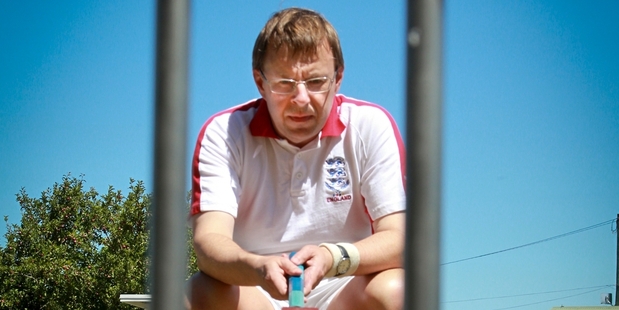 THEY ARE in every sense of the word bosom pals. So much so that Robert Fulford and Chris Clarke were not long ago best men at each other's weddings.
But all that will change today when the pair stroll on to the pristine croquet greens of the Mt Maunganui Croquet Club for the third and final test match to decide the winners of the four-nation MacRobertson Shield.
Fulford will be representing England while Clarke will be in the New Zealand corner after the two countries exerted their dominance over Australia and the United States in the previous two tests in Christchurch and Hawke's Bay.
It wasn't always like that because Clarke used to rub shoulders in the England team but that changed in 2012 when selectors overlooked the then world No 2 for a No 50 player.
Miffed and insulted, a disillusioned Clarke switched allegiances to New Zealand not long after having married women's singles world champion Jenny Clarke (nee Williams), of Christchurch, in 2008.
"If anything I encouraged Chris to play for New Zealand because the [England] golf croquet selectors weren't picking him," explains Fulford, not long after making short of his American opponent this week at Te Mata Croquet Club in Hastings in the second test.
Why? Because the selectors were "idiots".
"Chris was out of sight [living in Christchurch] but also the selectors weren't very good at their jobs so they simply didn't know how good he was," says the 44-year-old accountant from Colchester, an hour's drive from London.
To put things into perspective and why England have been so dominant lately, it is important to know Fulford has won five world singles titles while Clarke has two.
Fulford has won the MacRobertson Shield seven times with England while Clarke has clinched the team title five times.
"We've played doubles together for 20 years before he moved to New Zealand," explains Fulford, adding the pair have etched their names together on the British Open silverware 10 times.
England are the shield holders so the third test starting today should have some nail-biting moments.
Fulford and Clarke are No 1 seeds so the format of the competition means they will be the last ones to play should the countries find themselves neck and neck in the first team to 11 wins.
"It might well be so if it comes down to us because then it'll be very, very tense," he says, considering everyone will play each other in the three doubles pairs.
The last and only time the pair battled was after Fulford's wedding in 2009 when they competed in the British Open singles with Clarke winning 3-2.
"It came down to Chris hitting the longest possible shot [diagonal, corner to corner drive] to save the match," he says.
On paper, the world ranking system depicts the Aaron Westerby-captained Kiwis as the stronger side but Fulford is sceptical of the rating method.
"We kind of don't believe in it because most players who dominate are not flying around playing internationally."
While the English players are amateurs they do not have to pay expenses if they intend to compete anywhere abroad.
He impresses England aren't that match savvy coming out of winter whereas the Kiwis have been playing here.
The US and Aussies haven't really stretched either finalists in the past few weeks but playing New Zealand last is a blessing.
Asked what the rivalry is like between England and New Zealand, Fulford replies: "Pretty fair."
"There's certainly no Ashes [cricket] kind of sledging," he says with a grin.
When Chris and Clarke got married in Christchurch, Fulford was here for the world championship to be staged in the garden city a week after.
Forty of the 80 competitors were guests at the wedding so that also worked out well, although the honeymoon had to be postponed.
"Chris won the world singles title when the champs finished the following Saturday after the wedding was held on Wednesday.
"It [the wedding] obviously relaxed him quite a bit."
The following year Fulford tied the knot with Susan in England with Chris Clarke attending as best man.
"My wedding was a bit more normal but we worked it around the British Open schedule, a week after it finished."
Wife Susan is a teacher and isn't here because it would have meant curtailing her trip to return to school which started this week.
"Susan plays croquet but not at a top level."
Fulford flirted with cricket at school but gravitated towards croquet.
"As a 15-year-old we always had a snooker table so it's [croquet] a very similar game.
"I was a good chess player so I really liked the tactics aspect of croquet."
He wasn't playing long when stalwarts pointed out his display of talent suggested he was going to be a great competitor.
"I had a talent for hitting a ball and after a year I was better at it than I'm now."
Fulford reckons he's "past it now with a dodgy wrist".
He still thoroughly enjoys association croquet and prefers it to golf croquet because the former offers "more variety".
He has coached in numerous countries. "The trip to Japan was the best I've ever done because everything was paid for. There's not much money in it so it's kind of a self-generated thing."
The Americans, he believes, struggle because they tend to play the game at country clubs rather than public courses.
"They also play a game called US Rules which dilutes much of the players."
The ancient minor sport of mallet and hoops has also offered Fulford some memorable moments off the greens. It's led him to garden parties at Buckingham Palace although Princess Anne greeted them, rather than the Queen. Another highlight was an invite to the royal box at Wimbledon where he was "wined and dined".