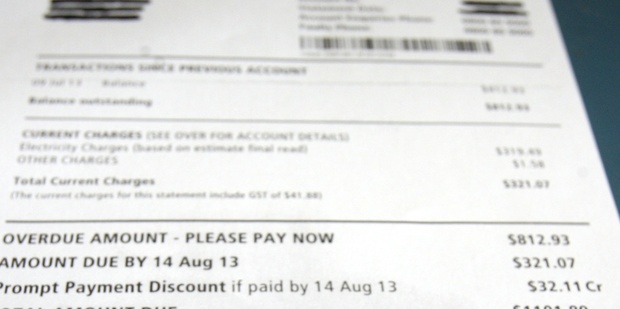 Some Hawke's Bay residents are overpaying for electricity costs by more than $650 a year, data suggests.
The Ministry of Business, Innovation and Employment's quarterly survey of domestic power prices showed up to 187,830 households nationwide were overpaying with their respective region's most expensive retailer on November 15.
These households paid a combined average of 16 per cent more than households with the cheapest retailer.
Wairoa TrustPower customers with Eastland Network paid $655.61 more in the year to November than those with the network's cheapest retailer - Nova Energy.
This represented the biggest gap between the cheapest and most expensive retailers in the country.
Energy Online customers with Centralines in Central Hawke's Bay were the next worse off in the region, paying $357.56 more than customers with the network's cheapest retailer - Contact Energy.
Meanwhile, the average Hawke's Bay/Wairarapa power bill jumped $114.28 in the last year - a 5.4 per cent increase - well above the national average.
The study, which relied on Electricity Authority data, was based on an average household using 8000kWh per annum - close to the nationwide average residential consumption.
The results were compiled by online power retailer Powershop.
However, TrustPower community relations manager Graeme Purches dismissed the figures as "a load of rubbish".
The way the data was calculated wasn't designed to compare regions, but provided an overall picture.
"Trying to do a calculation based on an average household consumption ... provides a wildly distorted picture."
The calculations also didn't account for special deals and discounts many companies offered, he said.
"The prices quoted, there'd be very few, if any, customers on them. There are only 5 per cent of our customers on standard pricing."
TrustPower prices were not nearly as expensive as they seemed, but "middle of the road".
About 70 per cent of its customers were locked into fixed contracts, he said.
Powershop's Ari Sargent said there were several reasons customers didn't switch to cheaper suppliers, including being locked in to a fixed contract.
"There are also many customers who are still unaware they can save a considerable amount of money by switching, despite the Government's 'What's my number?' campaign over the last few years," he said.
"Some customers sticking with the most expensive retailer are overpaying by more than $650 a year, that's enough to pay for the Christmas spread and most of your presents."
Wairoa showed the biggest gap between cheapest and most expensive retailer at $655.61 a year, followed by Christchurch at $623.65 and $597.17 in Buller.
Waitaki had the highest percentage of customers with the most expensive retailer at 73 per cent, followed by 70 per cent in Tauranga and 69 per cent on the West Coast.