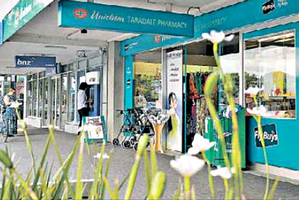 A 94-year-old woman had her mobility scooter stolen while shopping in Taradale yesterday.
Fran McPherson said she had parked outside the Unichem pharmacy in Gloucester St and after completing her purchase her scooter was gone.
"I couldn't believe that it wasn't there - the girls at in the shop were very helpful," she said.
"Those scooters can't be ridden off without the key - the brakes lock - and I've got the key."
Pharmacy assistant Carolyn Osborne said she went looking for the red Arrow scooter, which sported a red flag.
"I went down the street, thinking she had left it somewhere else, but she is adamant she came here first," Ms Osborne said.
"She said her scooter had been stolen but she had the key. They would have to push it, I guess, which is quite odd."
Ms McPherson said her parking might have been a factor in its disappearance.
"When I got home I started thinking about it - I parked it in a little alcove straight outside the chemist door.
"I parked it up against the kerb and I now think that wasn't a good place because the person who was parked there wouldn't be able to open the door.
"I wonder if somebody got so angry they did something about it.
"It is a big blow to me - I'm 94."
Ms Osborne said the scooter was insured but until it was replaced she would have to walk everywhere.
"I'll be all right - I'm quite a fit person - as fit as you can be at my age."
Police also searched for the scooter and drove her home.
"I hope they find it and know why it was taken," she said.