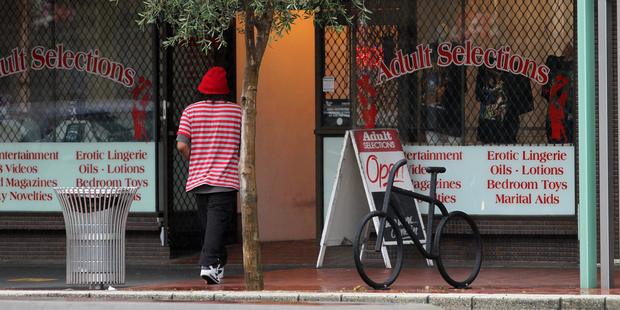 The owners of stores selling synthetic highs and anti-drug community groups are set to square off in Hastings today, as the district council meets to debate a planned policy to confine selling the controversial products to the city's CBD.
The two retailers currently selling psychoactive substances have both indicated they will attend today's council planning hearing.
The policy hearing is to decide the location of retailers and could mean businesses selling the products would have to move to comply.
Under the Psychoactive Substances Act 2013, local authorities are allowed to develop policy relating to the sale of approved products in its district.
Next week the debate will shift to Napier, where the council is set to approve a similar policy confining sale of the products to the CBD.
Police, who are concerned about the ongoing illegal sale of the drugs through suburban dairies, say confining sales to the two cities' CBDs will help control problems caused by the synthetic highs.
"I believe passionately that we need to restrict the supply which will restrict the consumption," Sergeant Nigel Hurley said.
"And if we can put them in the CBDs of both cities then we will go a long way towards restricting that supply base."
Napier and Hastings are the only centres in Hawke's Bay where retailers have been granted licences to sell psychoactive substances.
Retailers in both CBDs have complained about the behaviour of customers visiting the stores.
Steve Batty, a director of Adult Selections, which is one of two licensed retailers in Hastings, and also the sole licence store operating in Napier, told Hawke's Bay Today this week he would attend today's hearing.
Gordon Arcus of Discretions on Karamu Road, the other licensed Hastings retailer, said in a written submission to the council he would appear at the hearing to provide "a point of view as a retailer of psychoactive substances" and would answer any questions from a retail perspective.
The lack of punishment handed down to a Napier South dairy owner recently convicted of illegally selling the products disappointed residents in his neighbourhood and anti-drug group.
But Mr Hurley said the recent prosecution had a positive impact.
"He pleaded guilty in court and he's gone through the system. That has got to have some form of effect because it does draw attention to the fact that it is illegal," he said.
"Action does need to be taken because the thing is, throughout the country the penalties have been similar to that in recent times but I would suggest to you that when the regulations are written and everything beds down it will change.
"That's what I expect to happen. It is a new law and often with new laws there is a little bit of bedding-in time and that's what's happened here."
Mr Hurley said police, iwi, health authorities and other community organisations had been working constructively together to address the issue.
"This is a community issue and we've done a lot of work. We've had community groups with us and we've stood side by side.
"We haven't been locking horns."
Napier City Council will meet next week to confirm the decision of a hearing committee meeting which set its CBD restriction policy.
Meanwhile, a company has applied to become the second licensed retailer in Napier, although its application appears unlikely to be successful because it is applying to operate outside the proposed CBD limits.
The company has applied to sell psychoactive substances from an Onekawa commercial address.
Charanjit Singh is listed on the Ministry of Health website as having applied for the interim licence under the trading name Thiara Sons Ltd.
Hawke's Bay Today visited the address yesterday and it appeared to be empty.
A man next door would not give his name but confirmed he had applied for the licence.
The man said if the licence was declined he would not sell the products but refused to comment on why he wanted to sell them.