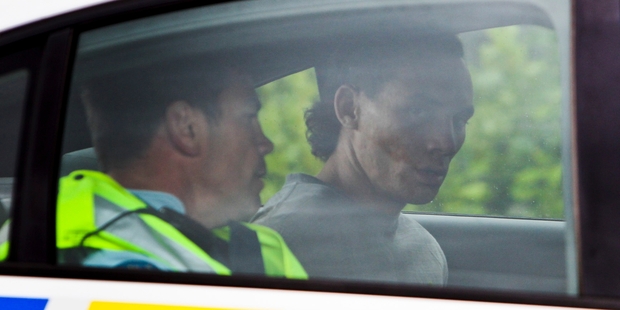 A man who had a warrant out for his arrest was discovered under a Lascelles St house after crashing his car following a lengthy police pursuit through Hastings.
Gary Karangaroa, wanted for failing to appear in court on firearms charges, was spotted by police in a Mercedes and failed to pull over when they activated sirens - leading to a chase through the CBD and outskirts.
The pursuit came to an end when he hit the left rear of a van at the Southampton St West and Charles St roundabout.
People nearby heard the screeching of tyres and a "bang" on impact, before one onlooker witnessed Karangaroa taking off on foot.
"The moment the car came to a halt, he bolted ... he had no chance of getting away, there were cop cars everywhere," he said.
"The thing I noticed is that he jumped out and ran - you have got to be guilty of something to do that."
Another man whose van was struck by the Mercedes, said he did not see the car approaching at speed, but heard it.
Senior Sergeant Nigel Formosa said the arrest was a "great result" for police who worked together to capture Karangaroa about 10.30am yesterday.
"He has been located at Lascelles St where he was hiding under a house. It was a really good effort, we have been after him for a while."
Police will be reviewing pursuit procedures as a result of the incident; they do not believe the car was stolen.
Karangaroa appeared in Hastings District Court yesterday afternoon, facing charges of reckless driving, failing to stop for police, driving while disqualified, possession of utensils, possession of cannabis, possession of ammunition, possession of a restricted weapon and threatening to kill.
He did not enter any pleas and was remanded in custody by consent.
Karangaroa will next appear in court tomorrow.