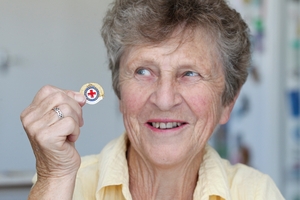 When Napier woman Meg Dawson received a Red Cross New Zealand Distinguished Services Award on Saturday her own thoughts were for the branch from Kaiwaka of which she's been a member more than 40 years.
Surprised when the announcement was made at the organisation's awards night in Wellington, held on Saturday in conjunction with a national conference, she says it must have been because of the branch that she was recognised with the Red Cross medal and certificate.
Where many other branches have closed over the years, Kaiwaka, formed in the rural area north of Bay View in the mid-1950s, is still going, even "now everybody's retired to town".
Still meeting once a month, there are "about 21 members," although in the heyday there was never more than 30-35, she says.
In the almost 60 years the branch has been around, there've been just 104 members, their names embroidered on a table cloth introduced in recent years by now late founding member Lorna Arnold, who served for half a century.
On hand now at every gathering, its names include Constance Jessep, now in her 80s and thought to be the last surviving original. It also includes Mrs Dawson's mother, Diana Wareham.
It started as a group just getting together before it formed as a Red Cross branch in about 1956, but has since raised tens of thousands of dollars to support Red Cross work around the world.
Among the fundraisers used to be the catering for the annual Petane sheep dog trials - "fun, but lots of work," Mrs Dawson recalls.
Members used to make "friendship bags" for the refugee centre in Auckland, they used to sell donated produce to holidaymakers at Waipatiki in the summer, and there used to be lots of knitting.
The monthly meetings still have sales tables, which might raise $40 or so a time, and on November 25 there's the annual luncheon at the All Saints Church Hall, and some members help the Napier branch with their annual appeal, and some may still help with Meals on Wheels, or the Red Cross shop.
As to why she now has her medal, Mrs Dawson pauses to think and perhaps answers her own question when she says to survive, such organisations have to have people in charge.
"While you've got officeholders you will keep going," she says.
But with no mums bringing along children any more, as they did when she first joined, the succession plan is open to improvisation.
"I've been treasurer, secretary and president, recycled," she says. "I'm president again now."
She'd been a member of the organisation's East-West Regional Board.
When former national president Joan Cockburn, of Napier, contacted her to see if she was going to the function in Wellington, her own enthusiasm for the organisation may have subdued any suspicion that something was up.
Mrs Cockburn didn't explain, but told her: "If you don't go, you might regret it."