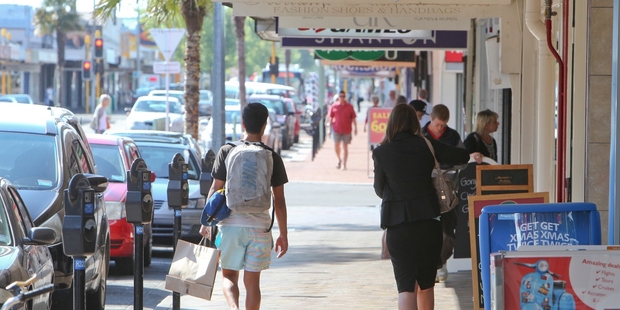 Hawke's Bay business confidence is improving but the job market "is still pretty tight", says the chamber of commerce.
Nationwide, consumer confidence is at its highest point in two years, with Kiwis becoming more positive about job prospects and spending more on home improvements, but also planning to save money for a rainy day.
The latest global Nielsen consumer confidence survey, which was carried out between August 14 and September 6, ranks New Zealand slightly ahead of Australia but behind the United States. In Hawke's Bay, Trade Me Jobs data for the July-September quarter, showed the number of job listings increased 1.4 per cent from the previous three months, and 4.6 per cent year-on-year.
Bay customers splurged $103 million in electronic retail spending in September - a 5.4 per cent year-on-year jump, Paymark figures show.
And latest realestate.co.nz figures show Bay property sellers are more positive, with the average asking prices jumping 7.3 per cent last month to $375,209 and nearly 500 listings.
Hawke's Bay Chamber of Commerce chief executive Wayne Walford said he was concerned the Nielsen survey showed many Kiwis preferred to save money, as it "restricts the economic cycle".
"Everybody's just having to work hard to make sure they get their share of the consumer spend. Some businesses are doing particularly well, but there are still those that are struggling along and just being really careful."
Mr Walford said the Trade Me job figures did not accurately reflect the local employment market, as many jobs were rarely advertised except by word of mouth among local networks. Building consents were "quietly growing" but he had not heard any significant feedback from the sector.
However, Mr Walford expected seasonal work in orchards and vineyards to increase over the summer.
"There's an opportunity for students, travellers and all sorts of people to get in and enjoy the region and make some money on the way through."
Nielsen NZ managing director Rob Clark said nearly half of Kiwis (47 per cent) now believed the country was out of a recession, a 12 per cent improvement from last year.
"People are feeling slightly better about their job prospects. However, there remains caution around the state of personal finances and their willingness to buy the things they want and need."
The hot property market also featured in people's money plans. "More people said they would spend on home improvements and decorating, further evidence more people are looking to plan for the future, especially as the housing market continues to heat up."
Bunnings Warehouse spokeswoman Valerie Staley said spending on building products had been positive for several months.
The Nielsen Global Survey of Consumer Confidence and Spending Intentions polled more than 30,000 online consumers in 60 countries throughout Asia-Pacific, Europe, Latin America, the Middle East, Africa and North America. The results have a 0.6 per cent margin of error.
- additional reporting Calida Smylie