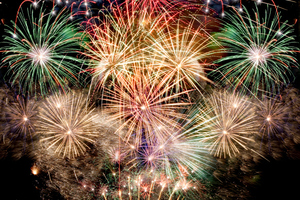 Hawke's Bay residents are being reminded to put safety before celebration this Guy Fawkes season.
Fireworks, which go on sale today, are a thrill for many families, but a potential headache for emergency services.
ACC recorded seven firework-related injury claims for Hawke's Bay last year, and 445 claims nationwide - of which about 285 were for burns.
About 213 claims nationwide were for injuries that happened between November 2 and 5, when fireworks were on sale.
The total national cost to date of firework-related claims received in 2012 was about $191,785.
Hawke's Bay Fire Service area manager Chris Nicoll said stations still received a significant number of calls during Guy Fawkes season, but calls had decreased over the past 20 years.
Firework-related fires commonly occurred when improperly extinguished fires were rekindled by wind and then spread to trees or grasslands.
Families should appoint someone to monitor whether fireworks were properly extinguished, he said.
"It really does pay to be prepared ... if you've got a garden hose ready, decide who's going to turn the tap on, who's going to squirt the water, those sort of things.
"It's pretty easy, it only takes five minutes to discuss it with your family."
Napier residents also needed to be aware of the total fire ban, which prohibited bonfires.
The New Zealand Fire Service is encouraging people to make the most of big, public Guy Fawkes firework displays.
Risk Management Assistant National Commander Rob Saunders said there had been a dramatic reduction in firework-related emergency calls since 2007, when a law change saw the minimum purchase age raised from 14 to 18 and sales restricted to the four days up to and including November 5.
Previously sales were permitted for 10 days.
"In recent years the only noticeable increase in fire-related calls has been on the nights that the event is widely celebrated - usually the two Saturdays closest to 5 November," said Mr Saunders.
The New Zealand Veterinary Association (NZVA) is advising pet owners to prepare pets psychologically and physically for Guy Fawkes celebrations.
President of NZVA's Companion Animal Society Dr Cath Watson said every year following November 5, veterinary clinics treated injured and traumatised pets, particularly dogs, because of fireworks displays.
"Even well-managed fireworks displays at home or nearby can result in anxiety and distress for pets," Dr Watson said.
"The terror they cause animals might be indirect, but it can be very distressing and lead to pets attempting to escape and potentially putting themselves in harm's way."
She advised pet owners to contact their local council and find out where planned firework displays would occur.
"Also ensure your pet's microchip information is up to date, because if an animal runs away during fireworks, the chances of them being returned to you increase substantially if they have a registered microchip."