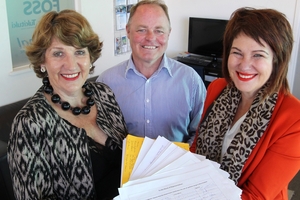 Associate Health Minister Todd McClay has launched a toll-free hotline for the public to report concerns about psychoactive substances in their community, while a local petition to completely ban "legal highs" will also be submitted to Parliament.
Mr McClay said the hotline would lead to legal high shops being closed and individuals being prosecuted where they had contravened the Psychoactive Substances Act.
"I recently received an email from a member of the public who raised concerns about a retailer in Hawera. This information was passed on to the regulator who quickly suspended the retail licence taking legal highs off the shelf. A subsequent investigation has led to this retail licence being cancelled. Without the assistance of this concerned member of the public that retailer might well have continued to break the law."
The hotline enables members of the public to report concerns about individuals, retail outlets and psychoactive substances with a response from police and the Ministry of Health.
Meanwhile, Tukituki MP Craig Foss said he would present a Hawke's Bay petition to the House of Representatives next week, hoping it would be another step closer to "stopping the harm of legal highs".
He said the hotline was just another way to "minimise the harm" of synthetic drugs in New Zealand.
"It's great, it will help stop some retail outlets and will enable the community to be constantly vigilant and give information to the authorities."
Hastings District Councillor Sandra Hazlehurst believed the petition she and Hastings Deputy Mayor Cynthia Bowers formed, with 1040 signatures, will send a "clear message" to Parliament that the "evil" drugs that harm "our young" were not wanted in communities.
"What we are finding is young people are being supplied by older people now that the stuff has been restricted to R18," Councillor Hazlehurst said. "We're really looking forward to, and will follow, the outcome of this petition closely. It is quite timely because I believe there was a petition submitted in Wellington and one from the Northland community."
The petition gathered support following September's anti-pyschoactive substances protest in Hastings.
Mr McClay said since the Act took effect on July 18 there had been a significant reduction in the range, availability and access to "legal highs", while the number of retail outlets selling psychoactive products had dropped 95 per cent, from an estimated 3000 - 4000 to less than 170 interim licensed premises nationwide.
The Act bans dairies, convenience and grocery stores, service stations, and liquor outlets from selling psychoactive substances.
"From an estimated 200-plus products on the market prior to legislation the number available under temporary licences has reduced by over 75 per cent. There are now tough restrictions on the labelling and packaging of these products. Advertising is banned and products are restricted to people 18 years and over," Mr McClay said.
"To ensure public confidence and as a further safeguard I instructed the authority to have approved interim products tested by ESR [Environmental Science and Research] to validate their active ingredients."
He said district health boards have reported fewer presentations in their emergency departments of health issues related to these products, while calls to the National Poisons Centre have reduced.
There were 63 calls in August, and only 34 in September.
The Psychoactive Substance Hotline number is 0800 789 652.