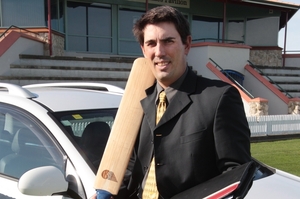 HIS SENSE of belonging, versatility, leadership and other such revered attributes were seldom ever in doubt.
Brutally honest in his assessment of self-worth or team and quite often to his detriment, Mathew Sinclair religiously carried out his duties in the Devon Hotel Central Districts (CD) Stags team with almost military precision for nearly two decades.
Ironically it's that sort of blinkered loyalty that eventually caused him to suddenly re-assess where his life was going when he announced his retirement from domestic cricket in July.
"I actually felt like I'd been institutionalised in the game of cricket," says the batting maestro who turns 38 next Saturday and has broken just about every record in the CD books; something that is unlikely to be eclipsed any time soon.
"It almost like I've been in the army for so long that I needed to step outside of that [environment] to look for new ventures," says Sinclair as CD Cricket and Hawke's Bay Cricket pay tribute to him this weekend with "Skippy's Stag Do".
"It's been hard because cricket is my passion and it's been so long so to try to step outside has been tough," says the right-hander, comfortable in the knowledge he can always step back into cricket later in life.
The former Black Cap has aspirations of acquiring a role in CD to help youngsters hone their skills by imparting his knowledge and skills.
Lauding CD cricket and Hawke's Bay cricket, Sinclair says the tribute weekend will give a little something back to him in some shape or form.
Tonight there'll be a dinner at the Nelson Park pavilion where "people will take the p*** out of me".
The invite has been limited to about 80 Stags, family and friends at $40 a person.
Tomorrow a Skippy's XI side will play the NZCPA MoleMap Masters in a twenty20 match at Nelson Park from 1pm.
He has never met "true Central Districts supporter" and comedian Ben Hurley, originally from New Plymouth, but had no qualms about inviting him to be 12th man for both teams.
"I've just seen him on TV shows and he obviously loves walking around in the CD kit so for me he's passionate about cricket and that's great.
"He's probably got some cricket blood in his veins so that's fantastic.
"Instead of him taking the mickey out of us we'll be doing that to him as 12th man," he says, adding Hurley couldn't attend tonight's dinner because of a prior engagement.
The Skippy's XI v MoleMap Masters game has an exciting group of current and former players.
"I could have kept on listing players in my team but I wanted to keep it local as much as possible to make it beneficial and watch good cricketers play," he says.
Having ex-Black Cap and New Zealand coach Mark Greatbatch, ex-Stag Campbell Furlong, ex-Stag and Bay cricket CEO Craig Findlay and Property Brokers Hawke's Bay senior men's representative coach Lincoln Doull in the mix achieves that goal.
"It's great that CD have recognised me in some way for my achievements and my longevity so for them to organise this is a great honour for me."
Sinclair's delighted the NZ Cricket Players' Association (NZCPA) had sent their MoleMap Masters outfit along.
He sees it as an opportune time to catch up with domestic cricketers he's played with and against to celebrate some magical moments of a special career.
"I didn't expect it to be organised so I suppose it's a final sign off," says the man who started fulltime as sales assistant with the Kerry Reid-owned Action Outdoors, dealing with fishing, hunting and sports equipment, last Wednesday. "It's a rostered sort of system so my commitment won't be every Saturday to cricket.
"At the end of the day I'll try to help out my club [Napier Old Boys' Marist] and, hopefully, above [HB reps] as much as possible."
While the forecast this weekend is good there's no plan B for "Skippy's Stag Do".
"We don't like to have plan Bs in Hawke's Bay because it's generally fantastic here so we're hoping there'll be a solid turnout of people to celebrate a good game of cricket."
The MoleMap Masters team will conduct a junior coaching session from 11am tomorrow with an hour-long lunch break from midday before the T20 game.
MoleMap, a skin cancer organisation, sponsors the Glen Sulzberger-inspired Masters team of ex-first-class cricketers who travel around the country to play for a good cause.
"For them to come down here to play my team is great."
Sulzberger, 40, of Taranaki, is a former Black Cap and CD allrounder who made his debut in 1995-96, the same season Sinclair did.
Current Bay senior men's representative players will go around Nelson Park collecting gold coin donations from spectators during tomorrow's game.
Black Cap Ross Taylor and retired CD and international Jacob Oram have also gifted signed memorabilia to be auctioned at tonight's dinner.
Among the items up for grabs will be autographed gloves of departing Indian batting maestro Sachin Tendulkar.
"I'm going to donate some items too, such as Brendon McCullum's signed gloves, so it'll be a good opportunity for people to put some money towards some good memorabilia."
While his domestic career is over Sinclair says he's still committed to NOBM and Bay rep duties subject to work commitments.
Loving living in the Bay with wife Tina and their two children, he has found difficulty finding a fulltime job until last week.
There will be plenty of action at Nelson Park tomorrow with the team coaching 100 kids in the morning followed by the feature Choice Hotels Masters Series match.
Masters skipper James Marshall says they are looking forward to the coaching session but is banking on crowd support to salute Skippy Sinclair's career.
"I have played my whole career with cricketers who have played Hawke Cup cricket and it's great that the Masters team are able to get into districts like Hawke's Bay to promote cricket to the next generation of cricketers" said Marshall.
The game will be live on CricHQ.