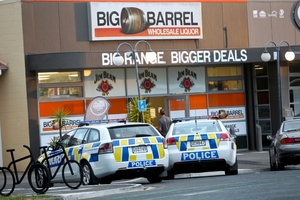 A shopkeeper and hotel manager were bottled and beaten by three offenders during a bottle store theft gone wrong in Clive yesterday.
Big Barrel shopkeeper Rajbir Singh said he first noticed something "suspicious" when two men and one female entered the store on SH2 about 6.45pm.
"The girl was over by the chiller and she started grabbing a box of Cody's, shoving them in her bag. I went up to her and tried to take the bag away, then she went behind the counter and grabbed three more bottles," Mr Singh said.
A local hotel manager, who did not wish to be named, said he noticed a woman on the phone looking "worried and concerned" before he went into the store and saw the female offender attempting to steal alcohol.
On walking into the store he was quickly involved in a brawl, where he was punched in the "head and arms" and "bottled".
Mr Singh said the fighting quickly broke out as the two male offenders joined in, "landing blows" on the hotel manager and himself.
"I was glad to see [the hotel manager], he came to help."
"They were trying to escape with the alcohol, so I just tried to stop them and tried to help Raj," the hotel manager said. "They were really going to attack him and beat him if I didn't come along."
A local resident said she was "shocked" and feeling a little "uneasy" following the attack.
"I saw the girl and the guy walking around the store and felt a weird about it, but when I saw the guy come in with the sunglasses and hoodie I knew something was about to go down."
She quickly rang her husband before the assault began.
The hotel manager said Clive was usually a "very peaceful community" and he was unaware of any other thefts and assaults in the town recently.
Police said they were treating the incident as a theft and assault and were looking for three offenders who sped off in a white car towards Hastings.
Big Barrel owner Avtar Singh quickly arrived at his business following the attack and said he was glad to capture the offenders on his security footage, which he was hoping to upgrade in the next few days.