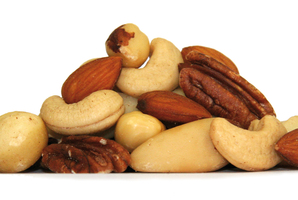 A man with a penchant for nuts has been sentenced to nine months of supervision after admitting stealing mixed nuts and pistachios valued at more than $100 from Pak'nSave.
Aaron Murray Giles, 25, told Hawke's Bay Today he stole the nuts for "survival" as a synthetic cannabis addiction meant he was low on money.
Giles pleaded guilty to three counts of shoplifting in the Hastings District Court yesterday.
A summary of facts said he went to The Warehouse on September 24 and stole about $12 worth of nuts.
A few days later on October 1, he went to Pak'nSave and filled a pick and mix bag with $57 worth of pistachio nuts before attaching a 20 cent price sticker to the bag and proceeding through the self checkouts.
On October 4 he again went to Pak'nSave and filled another pick-and-mix bag with $49 worth of mixed nuts and stealing them in the same manner.
When approached by police he said he was intending to take the nuts home and eat them.
Yesterday, Giles said nuts seemed like the easiest thing to take.
"Basically for survival, I'm living on a benefit. Unfortunately for me the only thing I could really get a hold of was nuts."
The Flaxmere man said his synthetic cannabis addiction meant he was spending $80 a week on the drug.
"I'm trying to get out of it but it caused me to get the temptation to steal. I used to smoke cannabis, I went on the synthetics to get off the cannabis. After a while I got addicted to it."
He said he hoped to prove to the Judge that he wants to change his ways.
"Ever since I got these charges I've been staying clean. I know I've done wrong, I'm hoping to show the judge I'm willing to meet my mistakes and get off it."
Judge Geoff Rea said the offending was the nature of what was stolen did indicate that Giles was stealing out of necessity.
He sentenced Giles to supervision and ordered him to attend drug and alcohol counselling programmes as directed by probation.