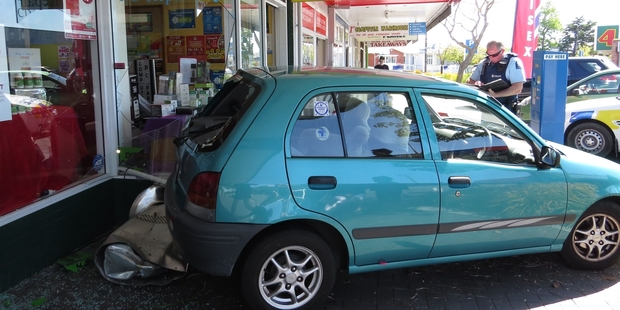 An elderly Taradale resident was left shaken after she crashed through a rubbish bin, up onto the footpath and through a shop window in the Taradale shopping precinct yesterday morning.
The Eldea computer sales and repair store was left with a gaping hole in its front, along with driver Betty Jones' rear window of her four door hatchback.
Taradale community policeman Senior Constable John Gillon witnessed the crash and was one of the first on the scene.
"I saw her on the other side of the road - she drove backwards in a big arc at speed," he said.
The driver was a regular patron of Barnaby's Cafe in the shopping precinct and was on her way to have coffee with a friend when the accident occurred. Cafe owners Chris and Marcia Woulds said she was a "dear old soul".