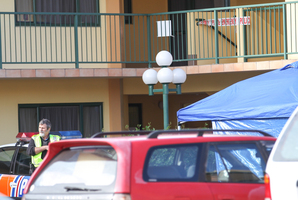 The son and wife of an elderly Chinese couple found dead in their Napier motel room are said to be holding up "as well as can be expected" given the circumstances.
The deceased couple, aged 73 and 74, are Chinese but have lived in Auckland for many years and were visiting Hawke's Bay as part of travelling around the country with their adult son and his wife.
Deco City Motor Lodge owner Clinton Green told Hawke's Bay Today the son and his wife were still staying at the motel where victim impact support had been in contact.
He said they were holding up "as well as can be expected'' given the circumstances but he did not want to comment further "for the family - and they're still here - and so I won't be making any comment''.
When told police could not yet confirm what direction their investigation was taking, he said: "I'd have to back that up. I think they're going along the right track. Any comments that could jeopardise something further .
. . I don't want to do that.''
Hawke's Bay Police are investigating the case after the two were found dead late on Wednesday night. Emergency services were called to the motel about 9.45pm after the couple were found by relatives.
Detective Senior Sergeant Dave de Lange said there was no indication at this stage how the couple died and post mortems would be carried out today.
"At this stage we are keeping an open mind as to how these deaths have occurred. There is a scene examination currently underway and police are speaking to the couple's son and his wife, as well as other people who were at the motel.
"It may take some time to establish the cause of death and until we get further information from the post mortem, including toxicology test results, we cannot confirm what direction this investigation will take," Mr de Lange said.