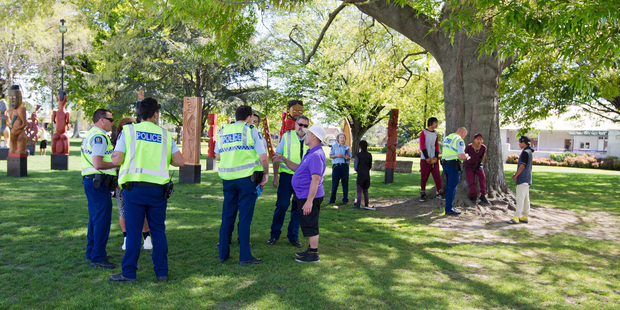 An iwi leader is slamming a youth brawl that played out among newly installed pou carvings in central Hastings yesterday.
Ngati Kahungunu Iwi Inc chairman Ngahiwi Tomoana said the fighting showed a "complete lack of respect" for the traditionally carved figures, 18 of which were unveiled at a dawn ceremony in Civic Square in July.
"Fighting anywhere is not good, but fighting there shows a complete lack of understanding," Mr Tomoana said.
One of Hastings' new City Assist teams was first on the scene and alerted police to the incident about 2pm.
More than 15 police officers responded and three arrests were made.
Sergeant in charge of public safety teams Clint Adamson said a series of fights broke out among the pou as two large groups of youths made their way through town.
"It seems what started it was someone had taken one of the kid's scooters. His mates jumped in to stop it and then both groups started going at it," Mr Adamson said.
He said the groups were known by police to be associated by gang colour.
"They started squaring off, colour on colour, blue versus red.
"At least three different fights broke out all in the same area. They are all in their early teens with the eldest being about 15."
He said to be fighting alongside the pou "really does show a lack of respect" and if it was not for the efforts of the City Assist staff, the fighting would have escalated.
The pou each represent an ancestor from 18 marae around the Heretaunga district.
Takitimu Maori Wardens chairman Des Ratima said: "It's a lack of respect to be fighting anywhere but certainly not very good to be doing it among the pou.
"Despite the best intentions it shows that we can't be everywhere all the time. It's disappointing if it's red versus blue as well, that tells me that there is likely a high percentage of Maori kids involved."
Hastings Mayor Lawrence Yule said he was "bitterly disappointed" by the fight but pleased with the response from the City Assist team. "The efforts we are putting into programs such as the city assist do not mask the problems of youngsters who have nothing to do, who are out of school. Some of these kids don't even go to school.
"These kids are bored with very little focus in their lives. It is a societal problem that needs to be addressed not just here but around the country.
"It's also a gang-based problem, effectively these kids get into gangs because they are not getting the parenting, care and guidance so they feel they get that family support from joining a gang.
"The elders and the people represented in those pou would be horrified to know that was going on around there and I certainly am as well."
Hastings district councillor Sandra Hazlehurst was disappointed to hear of the brawl after a number of CBD businesses had praised the recent added security.
"There has been so much positivity from business telling us how happy they are with the city ambassadors and how the elderly feel more comfortable coming into town," she said.
She said school holidays were always a challenging time but for the kids to be fighting around the pou was devastating.
"All the hapu are so proud of the pou and the elders and young carvers will be absolutely devastated to hear about the actions around the carvings."
The City Assist ambassadors begin walking the streets of Hastings on Monday with a brief to keep an eye on safety issues which have plagued the central business district. Last month an alleged assault and robbery of a 49-year-old man in the CBD by youths sparked public outcry about the safety of the town center.
Hastings District Council will spend about $40,000 on the City Assist programme, a six-month trial based on a similar one run in Rotorua called City Guardians.
Mr Ratima said he was sad to hear about the fight after being "very encouraged" by the feedback he had received from the increased warden, police and city assist patrols in the CBD.
He said over during the school holidays six to eight Maori Wardens would be patrolling the CBD.
"It's good to have the Maori Wardens around during the school holidays, it does help, let's hope this doesn't happen again."