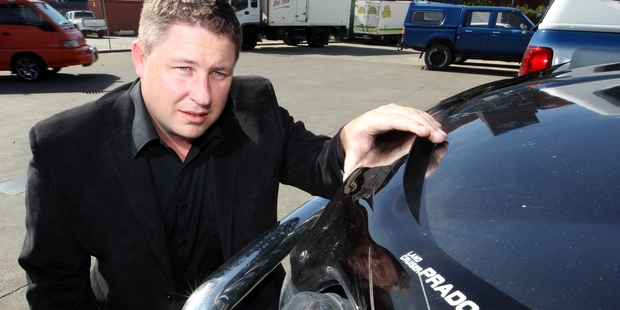 A high-tension string trap strung across a road in Taradale on Tuesday night had been set at a height which could have killed a cyclist or motorcyclist.
As it turned out, the reinforced twine left two cars with frontal damage and their owners angry and horrified at what could have happened if someone on two wheels had struck it first.
"It was at about chest height," one of the drivers, Taradale man Shaun McPherson said.
"There are cyclists out there day and night and some clip along at a good speed - this could have decapitated them."
Mr McPherson was travelling along Church Rd heading north about 11.20pm when he picked up the twine in the headlights at the last moment. There was no time to avoid it and he heard it "ping" as it hammered into the front of the car before snapping. He pulled up and spotted another car nearby, the driver was on the phone to the police. "The same thing had happened to him only a minute or so earlier - whoever did this quickly went and strung it up again and got me."
Officers called to the scene were left shaking their heads at what Constable Andy Clinton described as "a dangerous and stupid thing to do".
The high-tension string, similar to industrial twine used by builders, had been stretched tight across the road from a fence at Taradale Primary School across to a tree near an alleyway which leads into Taradale Park.
"This could have caused major injury to motorbike riders or cyclists," Mr Clinton said.
Mr McPherson said he and the other driver had not seen anyone, or heard anything after stopping.
He said police were "terrific" and quickly had a dog team in the area, although they failed to track the offender or offenders.
The impact of the twine was enough to crack his car's headlights and damage the bonnet. He estimated the repair costs were likely to be around $1500, adding he would probably foot the bill.
A woman living in the area said her daughter rode a scooter and was horrified to hear about the incident.
Mr Clinton said police were keen to hear from anyone who may have seen any suspicious activity in the Church Rd area on Tuesday night and from anyone who may have come across similar incidents. Call Hawke's Bay Police on 8310700 or anonymously to Crimestoppers on 0800 555 111.