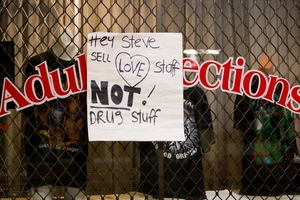 A rally planned for today to put pressure on Government to ban synthetic drugs seems to be working before it has even begun.
Hastings Mayor Lawrence Yule flew to Wellington yesterday and met with Associate Health Minister Todd McClay, who is in charge of the Act, and local MPs Craig Foss and Chris Tremain.
"It was a really, really good meeting," Mr Foss said.
"There was a lot of clarification in and around what powers local government have when it comes to this issue."
Mr Yule said yesterday he had been told that under the Act local council are able to formulate their own policies as to where these products can be sold.
"We weren't sure if we had a legal ability to do anything but that has been resolved and we do have that ability."
He said every retailer and importer would have to reapply for their licenses once the transitional period of the Act was complete.
"Once new regulations are bought in under the Act locations will have to be decided upon with input from the local authorities."
Mr Yule said of the 28 substances currently being sold there is no guarantee they will still be sold after testing has been carried out.
"As we work through the transitional period we will work out a place that is suitable for whatever's left to be sold."
He said while he personally would like to see an outright ban of the substances it looks "near impossible".
Mr Yule said an outright ban is thought to have been implemented in Ireland however all it had done was push the drugs underground to the black market.
Because of this usage had increased as there was no longer any control over where and when the products are sold. He said there would be further discussions with Minister McClay, Mr Yule and other key players in Wellington in about three weeks' time.
Mr Yule and Mr Tremain are expected to attend today's rally in the Hastings CBD.
The march has been organised by Hastings District councillors Sandra Hazlehurst and Cynthia Bowers and is scheduled to take place at 12.30pm, starting at the Hastings Town Clock.
"The people of the Hastings district are up in arms about the effects these drugs are having on our community and the government's lack of foresight," Cr Hazlehurst said.
The march will be the first in a series of actions designed to put pressure on the government.
Other actions will include a petition calling for a ban on the sale of synthetic drugs.
Cynthia Bowers said it was important that the Hastings community continues down the same path.
"We will not rest until the law is changed and these dangerous substances are banned."