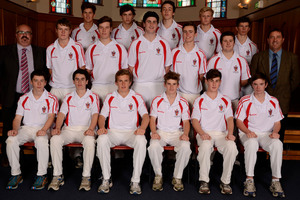 Slip on rubbish bin-lining bags in tracksuit fashion then start stretching and warming up.
Shut doors and windows to the indoor cricket facility at the Napier Technical Old Boys (NTOB) clubrooms in Onekawa to create a hot, humid environment.
Two boys pad up to bat and the rest start rolling your arms as if you're playing in the sultry climes of a country such as Sri Lanka.
That's what Lindisfarne College cricketers have been doing for the past few weeks before they embark on Wednesday for a 17-day tour of the subcontinent nation.
"We weigh them at the beginning of the session and then weigh them again two hours later at the end," says first XI cricket coach/teacher Matt Kidd of the pre-tour preparation, revealing some players lost up to a kilogram in that duration.
"That should have been a litre of water so it gets them thinking because if you're getting thirsty it's too late.
"It's about them managing their own hydration," says Kidd of the 16-member squad that includes four Year 13 players, five Year 12s, six Year 11s and a Year 10.
The sanitation drill for the Dominic Thompson-captained Lindisfarne side included practising cleaning their teeth with hot water a week before travelling.
"Indika [Senarathne] has a big scar down his front from having an operation when he was younger after he got sick so we need to be very careful," Kidd says of the Complete Flooring NTOB premier player and Hawke's Bay senior representative who is from Kandy, Sri Lanka.
The schoolchildren will have to even be mindful of things like ice over there because the source of water can be suspect.
The Hawke's Bay integrated boys' school from Hastings, Kidd suspects, is the first one to tour Sri Lanka from New Zealand.
Lindisfarne has toured Brisbane twice before.
"The last time we were in Brisbane we were one of 14 New Zealand teams there so the novelty value wasn't great.
"We wanted to design something that would test boys' cricketing talent but also give them a huge cultural experience," he says.
The school considered India, Bangladesh and the West Indies but settled for Sri Lanka. The other countries will be among its future destinations.
Some of the boys on tour have received coaching from Bangladesh-born Rokon Al-Sahariar at Hereworth Intermediate in Havelock North.
Senarathne, who has also helped, especially wanted the tour party to go to his hometown of Kandy.
Parents, 12 of them travelling with the schoolboys, have also bought into the concept.
The subcontinent tour concept is the brainchild of Kidd who got the children and their families to raise funds to subsidise the cost of their trip.
It's costing a shade more than $5000 a player to tour but selling wine, firewood, painting, raffles and such means it'll only cost them around $2500 each.
Urologist Kim Broome is a parent who has experience and has researched tours to warmer climates so the school considers itself privileged to have his professional services.
The tour party will live in hotels but St Benedict's College in Colombo will billet them just once.
"The concept of billeting was hard to explain and it's not done the way we do it here but we'd like to have the players billeted more often if we go back to Sri Lanka again."
While it will reduce cost, Kidd emphasises, it'll also give pupils a better cultural experience, something the comfort of hotel accommodation isn't likely to enhance.
Bar the first game against the Singapore Under-19 team (of largely Indian expatriate players), en route to Sri Lanka, Lindisfarne cricketers are bereft of ideas pertaining to their oppositions' prowess.
"We know that their top under-19 cricket competition is very strong.
"They have 4000 to 6000 students in a school so to make their first XI team, of course, is something special," Kidd says, impressing Sri Lanka's inter-school competition is elite.
The Hastings school, minus three first XI players, sees itself as an under-17 outfit with compatible experience.
"I think we'll have some very competitive games but I honestly can't tell you how well we'll do although, of course, we'll try to win everything."
Among the teams is St Anthony's College which Sri Lankan international batsman Kumar Sangakkara attended.
They will also play on the Nondescripts Ground, the home venue of retired international batsmen Aravinda de Silva (1996-97), who played professionally for the Auckland Aces.
With a couple of fulltime tweakers in the squad, Lindisfarne are hoping slow wickets will mean they won't miss their two fast bowlers opting not to travel.
Former Black Cap batsman and national coach Mark Greatbatch, of Havelock North, will address the team on technique and mind set on facing spinners before the team's departure.
Kidd thanked the parents and other parties who have got behind the trip when all cricketers will play six games each.
"We've set up a Facebook page, Lindisfarne Cricket Sri Lanka Tour, so if people want to follow what we're doing they can log in," he says, adding keeping the social media aspect active is part of the cricketers' project.
Lindisfarne are the region's Gillette Cup qualifiers for the national secondary schoolboys' tournament to be held at Lincoln, Christchurch, in December so the tour will also be a timely workout for some before NCEA exams.