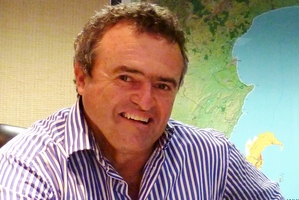 Hawke's Bay Regional Council chairman Fenton Wilson says allegations the council had ignored the threat to jobs posed by its water restrictions in the last drought were incorrect.
The council had to balance economic, environmental and recreational use of rivers.
"You can't keep taking with one hand and not have an impact on the other," he said.
"What we need to do is keep the discussion going and find that accurate balance.
"We've had numerous engagements with these guys - it is ongoing - and maybe our listening hasn't been as good if that's what they are saying, but ultimately we've got to find a way where everyone wins out of this thing.
"That's why we have an interest in water storage - it's one way of having your cake and eating it too - if you can provide enough water to meet all those values everyone holds dear."
He hoped opponents of the Ruataniwha Water Storage Scheme were not piggy backing on the growers' dissent.
"I have no proof, but you have to wonder."
He said Ngati Kahungunu Iwi Incorporated chairman Ngahiwi Tomoana's comments that protesting growers' preferred candidates could prevent the scheme from proceeding were contrary to the iwi's position to date.
"Every conversation that we have had with iwi is that mauri of the river is paramount. That's about moana, food from the river, health - a whole lot of things that over-extracting waterways does not deliver."
Critics had challenged the council findings on the Twyford aquifer, he said, "but nobody could produce anything that was robust and different".
"I'd love to say we've got it wrong, but it doesn't look like we have."