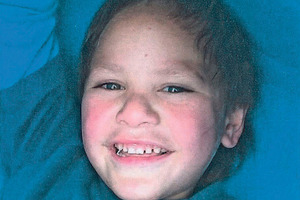 Police have issued a strong warning in the wake of a motorist's admission he was the driver in a hit-and-run which left a 5-year-old in a critical condition.
Joshua Manukapei Watson, 27, hit Kayzah-Shae Wairama as he was playing on his bike on Kingsley Dr, Flaxmere on August 13.
After a public outcry and police appeals for the driver to contact them, Watson surrendered to police two days later.
Facing one charge of failing to stop or ascertain injury, he did not attend a Hastings District Court appearance last month and a warrant was issued for his arrest.
He handed himself in, but again missed his initial court appearance yesterday morning. Another warrant was issued for his arrest before he appeared about an hour later and entered a guilty plea before Judge Bridget Mackintosh.
Hawke's Bay Road Policing Sergeant Clint Adamson said it was pleasing Watson had pleaded guilty for the sake of Kayzah-Shae's family.
"If you are involved in any accident, the driver has a responsibility to ascertain if there was an injury," Mr Adamson said. "In this case he didn't, hence the charge he faces. It's always best to go back and get it sorted at the time."
Despite the notoriety of hit-and-run accidents, he did not think panicked drivers failing to stop after an accident was a common occurrence.
"It does happen from time to time and there could be a reason why you don't stop, whether you panic or not," he said.
"The message is you've got a lawful responsibility to go to talk to the police about it at your first opportunity if you decide not to stop."
When spoken to by police, Watson said he had seen the child but had been unable to stop, then was afraid to return to the scene because of all the people in the street.
Immediately following the accident, he drove around the corner and parked the car at a friend's property.
Yesterday, Kayzah-Shae's brother Teau Shillingford, 19, said his younger sibling was looking forward to going back to school when he returned from Auckland, where he and his mother Melanie Shillingford have been since he was admitted to Starship Hospital following the accident.
"He's good, he should be coming back on Friday," he said. "It's just his left eye that they couldn't quite fix. It's sort of a bit lazy, when he's tired he starts going cross-eyed."
The accident left Kayzah-Shae with head injuries in the paediatric intensive care unit at Starship Hospital, before he was taken to a rehabilitation centre in Auckland.
"Every time he saw a family member walk into his room he just wanted to leave.
"He had pretty much bruises and scrapes all over his body and his hearing wasn't so good in his left ear, and the same with his concentration," Mr Shillingford said, adding that despite the injuries he had healed fast and "all he wanted to do was come home".
"He's happy, he's happy now and he wants to go to school."
Watson was remanded on bail for sentencing on October 23.