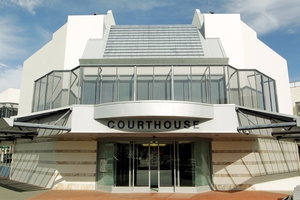 Drug dealing among a group of Napier people barely known to police involved the most prolific methamphetamine trade ever uncovered in Hawke's Bay and sparked a major drugs bust in Auckland.
In Napier District Court yesterday, Judge Jonathan Down was told up to 1.3kg of methamphetamine was moved from Auckland to Hawke's Bay by or at the direction of a regional distributor referred to by associates as "the big man", "Sir" and "the boss."
He is Keith Ronald Lawson, 50, a former electrician who had not previously come to police attention for any criminal offending before investigations in March to August last year in which text messages and other surveillance indicated he was involved in at least 500 "transactions", police said.
But having pleaded guilty to representative charges of possession of methamphetamine for supply and offering to supply methamphetamine, and with three associates earlier yesterday sent to jail, Lawson claimed through his lawyer the police had got the figures wrong.
At a disputed facts hearing, defence counsel Russell Fairbrother QC argued the totals were police guesswork, and the amount involved would have been well less than half.
Summaries presented by Crown prosecutor Clayton Walker say that as part of the investigation in Hawke's Bay, police obtained search warrants enabling them to view cellphone records of suspects and conduct surveillance by intercepting mobile and landline phone calls.
Lawson was said to have made or organised at least 18 trips to Auckland for the purpose of buying methamphetamine, amounting to at least 40 ounces.
The investigation, Operation Spark, led to 8 arrests in Hawke's Bay in August last year.
It also led to a major crime investigation by the Organised and Financial Crime Agency, known as Operation Enzone, which led to nine arrests in the Auckland area, including a real estate agent alleged to have been a central figure distributing methamphetamine throughout New Zealand.
Also disputing facts at the hearing is 39-year-old Napier woman Raewyn Marie Langridge, who has pleaded guilty to charges relating to her involvement.
The hearing was adjourned part-heard and will resume tomorrow.
Earlier yesterday, Dion Phillip Silva, 36, of Napier, was sentenced to a total of four years and six months' jail on charges of conspiring, offering to supply and supplying methamphetamine, and unlawful possession of a loaded sawn-off shotgun found beneath his bed at Lawson's home in Georges Dr, Napier.
Stuart John Graham, 33, was sentenced to four years' after pleading guilty to representative charges of supplying and offering to supply methamphetamine, and fellow Napier man Aaron Blair MacFarlane, 34, involved in other methamphetamine and regarded by police as a by-product of the investigation, was sentenced to three years, nine months' on charges of supplying and offering to supply.
Lawyers said that all three sentenced men had become involved to feed their own addictions and not for other gain.
Silva, said to be involved in about 130 transactions and trusted by Lawson to deliver methamphetamine, had declined the opportunity of bail while on remand, worried that if he remained in the community he would revert to his addiction.
In May, two other Hawke's Bay people involved in the network were each sentenced to three years, nine months' jail.
Shannon Rose Hislop, 26, also of Napier, and Dylan John Mathews, 31, had both pleaded guilty to three charges of supplying methamphetamine, while Hislop had also pleaded guilt to a charge of possessing methamphetamine for supply.
An eighth person arrested in Hawke's Bay is awaiting trial, as is the alleged central figure in Auckland.