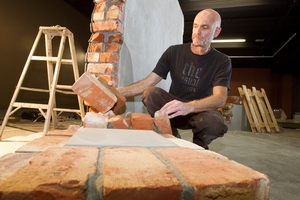 The countdown to the grand opening of the new MTG - the Museum Theatre Gallery - in Napier is well under way.
Staff were this week arranging and laying out the first displays which will colourfully fill the 14 exhibition spaces within the complex.
Marketing team leader Pam Joyce said there had been months of behind the scenes work going on but the pace stepped up when installation of the exhibit pieces began.
"I had a walk around at the start of the week and the objects were coming out and populating the spaces," she said.
"It was quite a lovely feeling to think that we are a museum again - three years of planning and preparation."
Yesterday the more than 40 staff, and additional design, building and lighting teams, were working to what Ms Joyce described as a concise and accurate plan which had been carefully devised and laid out.
The diversity of what the public can expect to see was summed up by four of the exhibitions, featuring history, design and culture, set to welcome the September 21 opening.
They are 1931 Hawke's Bay Earthquake, Architecture of the Heart, Treasures of the Archive and Ukaipo o taitou whakapapa.
Ms Joyce said the anticipation among the staff in setting up the exhibits was as strong as it was for members of the public eager to see "the newest museum in the world".
There were gloves in evidence everywhere and flooring protection sheets laid throughout the display areas on all levels.
Cartons and boxes and bubblewrap galore.
Caution and care were clearly paramount.
The Herschell Gallery, which will house the startling Architecture of the Heart exhibition - a colourful and eclectic spread of paintings and images - was bright and almost glowing.
Meanwhile, the downstairs venue for the earthquake exhibition was being designed with atmospheric lighting and a landscape including shattered bricks in a display that will radiate as the seismic waves experienced that day.
Ms Joyce said the MTG team were expecting up to 7000 people to arrive on opening day to check out their new museum, and the many hundreds of objects and images within.
"It is very exciting," she said.