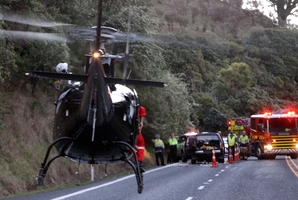 Two men were seriously injured when their vehicle slammed into the rear end of a truck on State Highway 5 yesterday evening.
St John Ambulance spokesman Stephen Smith said the two men, one aged 68 and the other in his early 30s, were both in a serious condition.
"The man in his 30s has serious neck and leg injuries. The 68-year-old has serious chest injuries."
The Lowe Corporation Rescue Helicopter airlifted the man in his 30s to Hawke's Bay Hospital, while the 68-year-old was transported by ambulance. The pair were believed to be related as uncle and nephew.
Senior Constable Warren Clayton said the accident, just west of Te Pohue, was likely to have been caused by sun strike. "The truck was slowly going up the hill, when the car, with the two men, came up behind them and went smack into the back.
"We believe the crash has been caused by sun strike coming through the trees. It's obvious the driver hasn't seen the back of the truck," he said at the crash scene.
Police said the driver of the truck was uninjured and had immediately called his depot in Hamilton about the crash.
"The depot then used GPS to track the truck and notified fire, ambulance and police," said Mr Clayton. "If there is a message in here it is if you can't see where you're going, slow down. Sun strike gets really bad in Hawke's Bay this time of year."