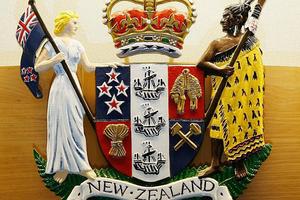 Convicted killer Phillip Layton Edwards has appeared in court charged with kidnapping a toddler.
The 33- year- old former Napier man was captured by police in Auckland in the early hours yesterday having been on the run since last month.
He and associate Maryanne Nahi, 25, were arrested at a house on Miranda St in Blockhouse Bay at 3am.
Edwards appeared in Auckland District Court yesterday afternoon charged with two counts of assaulting a female, and one count each of kidnapping and unlawfully taking a vehicle.
Dressed in a grey hooded jumper, he stood facing Judge Brooke Gibson for his brief court appearance.
Edwards was remanded in custody until September 10.
Nahi, a cousin of Edwards, was due to appear charged with being an accessory.
A 2-year-old allegedly kidnapped by Edwards was found by police, shirtless and abandoned in a shed at the back of an Auckland property on August 11, after being missing for most of the day.
Edwards was released from prison last year after serving a nine-year term for the manslaughter of fashion designer and former television host David McNee in 2003.
- APNZ