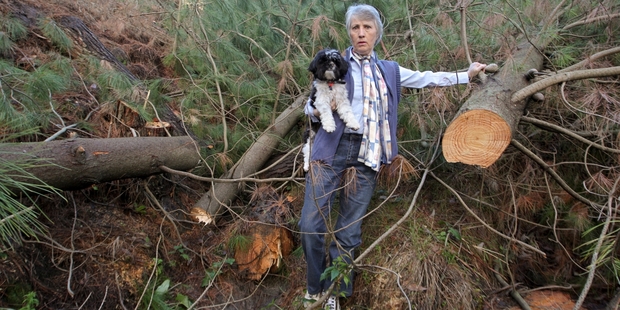 Hastings District Council is seeking restitution after 15 to 20 trees were cut down in a public reserve without permission to carry out the work.
Users of the popular Tainui Reserve in Havelock North were shocked when they saw a group of gum and pine trees felled at the east end of the park, near Hikanui Drive, more than a week ago.
Among the regular park users was Jessica Maxwell who lobbied Hastings mayor Lawrence Yule to take action over the incident.
"I can assure you that without exception all reserve users were horrified at what had occurred," Mrs Maxwell said.
Hawke's Bay Today understands the trees were felled on behalf of Anthony Rowe, director of Rowe Property Investments Limited, to fell the trees in the reserve and that the contractor had been told that the council had given permission.
Mr Rowe is listed as a licensed building practitioner.
A report generated from Quotable Value's website showed Rowe Property Investments owned 10 Hikanui Dr, Havelock North, a residential home currently under construction overlooking Tainui Reserve, where the trees were felled.
Attempts by Hawke's Bay Today to contact Mr Rowe via phone, mobile and email proved unsuccessful. He was not on site at the Hikanui address when visited on two occasions.
Mr Yule said the council did not give permission to cut the trees down and the matter would be investigated.
"We are still looking at the options. It is wilful damage. He had asked to have the trees cut down and we said no, and then went ahead and did it anyway, it seems to us.
"There are a lot of people who approach the council to do the same thing and we have said no. Everyone else abides by the rules and so should he."
The council's parks and property services manager Colin Hosford said seeking restitution was the immediate action being pursued and it meant the council wanted to work with the person responsible for felling the trees to restore what had been lost.
He said a decision on whether the council wanted to take legal action would come at a later date.
Staff were working through legal and other options to ensure the damage "was put right" and the person responsible was held to account.
"This requires a considered approach if council is going to achieve a successful outcome for the community. Decisions on which course of action will be taken have yet to be made.
"Our investigations to date indicate that no council officer has granted consent to allow the felling of these trees in Tainui Reserve."
A visit to the park with Mrs Maxwell and one of the Havelock North ward councillors Wayne Bradshaw showed that some of the trees were felled on what Cr Bradshaw thought could be private property. The balance, about 15 pine trees, "were definitely" on reserve land.
"From what we understand the trees were cut down on the 14th of August and I was informed the following Saturday. We've got a lot of reserves in Hastings and we want to make sure this kind of action is strongly discouraged.
"These may be only pine trees, some self seeded, but they take 25 years to grow and it sets a precedence that anyone could walk into other parks and just cut trees down without permission."
Havelock North ward councillor Scott Henderson was with the Rotary Club which helped construct the pathway through the reserve in 1993 and was not impressed with news of the tree felling.
"It appears this has been done without permission and it's a bit rich just to jump the fence and cut them down."
Mrs Maxwell said if the council did not follow up with some form of prosecution, it would give the green light for others to enter parks and chop down trees.