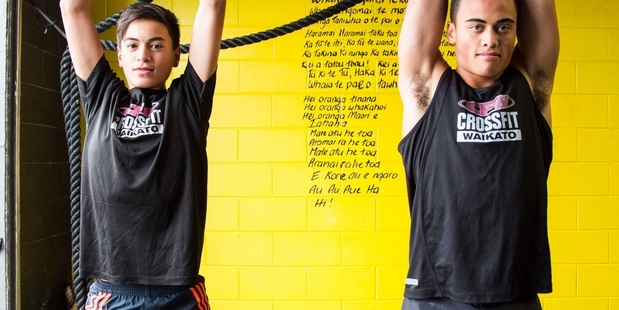 A Waikato youngster is currently ranked number one in the world for his age group in a worldwide CrossFit competition.
The scores of 14-year-old CrossFit Waikato athlete Kashius Baird-Gillett have him sitting out front in the 12-14 age group of The Teen Gauntlet - a global competition in which teenagers perform the same CrossFit challenges before submitting their scores for international ranking.
Invitations to a world teenage CrossFit competition in Los Angeles in August will be sent to top qualifiers in each division, meaning Kashius' 17-year-old stablemate Levi Ririnui could be in with a shout after recording a 12th place ranking in the 17-18 age group.
Johnny Gillett of CrossFit Waikato was pleasantly surprised by the deeds of his young charges.
"To be honest I didn't know what to expect," he said.
"Because we were the first in the world to do it we knew that in our own region Levi ended up second in his category and Kashius finished first, but thought it would be interesting to see where we ranked when all the scores came through.
"It was exciting to go on the website and follow it - especially for Kash because no-one actually beat him."
The two boys have taken different paths towards global CrossFit competition.
Levi began training only a year ago after breaking his ankle playing softball, with Kashius dabbling in his father Johnny's training since he was about eight years old.
"The thing with CrossFit is there are so many different exercises they can give them.
"Our kids do well because they are tough - they do pick it up really quickly."
The competition - entered by children in Australia, Europe, Asia and the United States - adhered to CrossFit's grounding principle of testing athletes in as many ways as possible.
With running, rowing, skipping, jumping, Olympic lifting and strength movements including deadlift squats and gymnastic pull-up dips to call on, organisers opted for a typically varied programmes.
The Novice (12-14 years), Junior Varsity (15-16) and Varsity (17-18) competitors completed the same programme - with the older competitors sometimes lifting more weight and recording more reps - before having their scores judged and submitted to CrossFit headquarters for ranking.
The competition provided a tough test, incorporating overhead squats, handstands, pull-ups, a 40m sprint, 800m run, consecutive double under skips, hang cleans and box jump overs.
Completion of nine reps within three minutes extended exercises by an additional three minutes and six reps, up to 21.